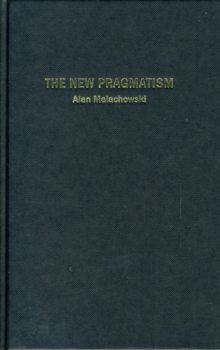 The New Pragmatism
Hardback
Description
Some hundred years after its inception, Pragmatism has reclaimed centre stage, not just within philosophy, but also within intellectual culture as a whole.
This book sets out to explain what it is about Pragmatism that makes it such a distinctively attractive prospect to so many thinkers, even in previously hostile traditions.
Alan Malachowski sets out in a clear and accessible manner the original guiding thoughts behind the Pragmatist approach to philosophy and examines how these thoughts have faired in the hands of those largely responsible for the present revival (Putnam and Rorty).
The Pragmatism that emerges from this exploration of its "classic" and "new wave" forms is then assessed in terms of both its philosophical potential and its wider cultural contribution.
Readers will emerge from the book with a more secure grip on what Pragmatism involves and a correspondingly clearer grasp of what it has to offer and what its current resurgence is all about.
Other Formats
Paperback from £25.09
EPUB from £37.03
PDF from £37.03
Free Home Delivery
on all orders
Pick up orders
from local bookshops