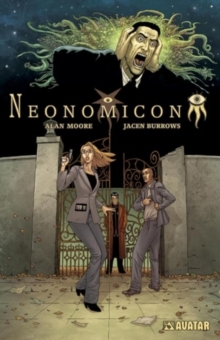 Description
In this title, Comic's legend Alan Moore ("Watchmen" and "V for Vendetta") and artist Jacen Burrows deliver a chilling tale of Lovecraftian horror!
Brears and Lamper, two FBI agents, investigate ritual murders somehow tied to the final undercover assignment of Aldo Sax - the once golden boy of the Bureau! "Neonomicon" collects Moore's 2010 series-including his original story, "The Courtyard".
Information
Format: Paperback
Pages: 176 pages, colour comic strip
Publisher: Avatar Press
Publication Date: 25/11/2011
Category: Horror & ghost stories
ISBN: 9781592911301
Free Home Delivery
on all orders
Pick up orders
from local bookshops
Reviews
Showing 1 - 5 of 7 reviews.
Previous | Next
Review by josh314
16/06/2015
There are two very distinct parts to this volume, "The Courtyard" and its sequel "Neonomicon." I thought The Courtyard was just great and a fitting homage to Lovecraft. On the other hand Neonomicon, after a strong start, ends up being just too much, almost literally torture porn, although the ending is good.
Review by jbrubacher
16/06/2015
A murder investigation becomes the discovery of a creepy cult and its sexual depravities beneath an ugly grey city, all inspired by Lovecraft. It's difficult to tell if the story needed to exist or if it was just a vehicle for the sex, but at least I was entertained throughout. Read at your own risk.
Review by JJbooklvr
16/06/2015
A twisted tale from the mind of Alan Moore for Lovecraft fans. Loved the artwork of Jacen Burrows too. Not for the squeamish with the sex and gore.
Review by Lenny85
16/06/2015
First of, I just started with serious comics/ graphic novels. I read Watchmen, liked it - a lot - and tried to find something equally good. So I thought, hey it's Alan Moore, and you read most of Lovecraft's work, try Neonomicon.What a disappointment. The first chapter consists of mostly 2 art boxes per page, mostly with the same content. The story is no lovecraftian one at all, his name just gets dropped all the time and adds as much plot as reading his wikipedia entry. The characters are exchangable to say the least. Whether it's a FBI-Agent or a drug dealer you can only tell by their appearances.Let's face it, this comic has one thing and one thing only: *mild spoiler ahead*-----------grotesque alien rape of "our earth women"----------If that's your thing, and I surely wouldn't condemn you for it, you might enjoy it. But other than this part in the mid-section the comic fails on too many levels to be called good by any standard.The Cover and the art on the back are the most lovecraftian thing about it. But don't let that fool you into expecting FBI agents fighting for their sanity in the face of great Cthulhu. I still can't believe this was written by the same guy as Watchmen ...
Review by oybon
16/06/2015
Essentially 2 works, The Courtyard and its continuation Neonomicon. Though both well presented and at times thoughtfully drawn, I can't help but feel there is a massive hole lurking beneath the thin crust the story is presented upon. The Courtyard is arguably the stronger piece, presenting a claustrophobic environment around pulp'ish investigation story gone insane. Most likely making more sense in its original context, it unfortunately reads like a prologue to something more interesting when consumed in isolation.Neonomicon is not the more interesting body story you would have hoped for. Essentially we have Moulder and Skully sent into investigate the events of The Courtyard, except Skully is a reformed nymphomaniac, and Moulder is token black. Within the first few pages you quickly realise what you have is the authors X rated sex fantasy dressed up in a 3rd rate xfiles plot. By the end you are proven correct except it may possibly warrant upgrading to 2nd rate xfiles plot.