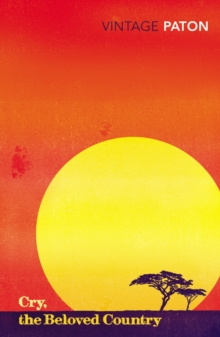 Cry, the Beloved Country
Paperback
Description
Cry the Beloved Country is the deeply moving story of the Zulu pastor Stephen Kumalo and his son Absalom, set against the background of a land and a people riven by racial injustice.
Remarkable for its contemporaneity, unforgettable for character and incident, Cry the Beloved Country is a classic work of love and hope, courage and endurance, born of the dignity of man.
Information
Format: Paperback
Pages: 256 pages
Publisher: Vintage Publishing
Publication Date: 01/08/2002
ISBN: 9780099766810
Other Formats
Paperback from £8.09
EPUB from £4.99
Paperback / softback from £7.89
eAudiobook MP3 from £16.76
Free Home Delivery
on all orders
Pick up orders
from local bookshops
Reviews
Showing 1 - 3 of 3 reviews.
Review by cotto
16/06/2015
Paton's Cry, the Beloved Country was touted to me as a must read for my upcoming trip to South Africa. Quote: you will feel this book in your soul. I always find it dangerous when people make such statements about a book I'm about to read. So...if I don't feel it in my soul...does that make me a bad person? I believe Paton's book was published the year apartheid came into effect (1948) and he was already speaking about the inequality between whites and natives. Not knowing much about South African history, I suppose the inequality was in existence for a while before apartheid formalised it by law. In 1948, South Africa was experiencing many social problems as a result of urbanisation. The natives were leaving the villages and moving to the cities in search of work. All industry was controlled by the white South Africans and the natives (men) worked for them. The men were not allowed to bring their wives and families into the city to live so many families were broken up this way. The traditional tribal social structure was being broken down and crime escalated as a result. In a country where the natives are generally mistreated by the whites, Paton shows us the amazing compassion that can occur between the races and this is what makes the book stand out but I can't admit to haven't had a soul shattering experience while reading it.
Review by souloftherose
16/06/2015
This was such a beautiful book. The story is set in South Africa in 1948 and follows a black Anglican minister from the country as he travels to Johannesburg in search of his son and sister who he hasn't heard from in some time. This is the first time he has travelled to the city and we see Johannesburg through his eyes as he struggles to understand the changes to the native African culture that the city has brought about. The book is beautifully written, almost like poetry. Repetition of certain phrases give it a very rhythmic feel and Paton has included some Zulu words in the text (with a glossary at the back for explanation) so it feels very African. It's also a very sad story, South Africa as a land and a nation has certainly suffered a great deal in the last century but there's a lot of hope in this book and I came away feeling uplifted (although teary) rather than depressed - the full title of the book is Cry, the Beloved Country: A Story of Comfort in Desolation. Beautiful is simply the best adjective I can think of to describe the book.
Review by dmsteyn
16/06/2015
Madam, I have no wish to be cut off from youI have no wish to hurt you with the meaningsOf the land where you were bornIt was with unbelieving ears I heardMy artless songs become the groans and cries of men.And you, why you may pity me also,For what do I do when such a voice is speaking,What can I speak but what it wishes spoken?- Alan Paton, 'Could You Not Write Otherwise?'This is a book with a very uplifting, though not superficial, message about racial attitudes from a man who knew all about living in a segregated society. It is a South African classic, which I approached with trepidation, fearing that I might actively dislike it. A superfluous fear! I enjoyed Paton's story immensely, though I did have some problems with his writing and his conclusion. Not calamitous problems, but niggles, which I will get to later.Father Stephen Kumalo is a preacher in deepest rural Natal. He has had a full life, guiding his flock and raising several children with his devoted wife. At the beginning of the novel, Father Kumalo (or "umalusi", as he is respectfully addressed in Zulu) receives a letter from Father Msimangu, calling his attention to his sister, who has become ill in Johannesburg. Kumalo sets out on a journey to the big city, into which his eldest son, Absalom, has also disappeared. Kumalo's deracination is expertly handled by Paton, who perfectly captures Kumalo's alienation in Johannesburg. After eventually meeting Msimangu, he sets out on a journey to find his sister, which leads him into the seedy heart of the city. To his horror, he discovers that his sister has become a prostitute. He manages to save her from her situation, but much worse follows: Absalom is accused of murdering a white man. The rest of the story is concerned with the fallout from this horrible event.Despite a glaringly convenient coincidence (the white man killed Absalom happens to be the son of a farmer from the same valley as the Kumalos) I found Paton's story touching and worrying. Despite being published four years before my own father's birth in 1952, this book contains warnings about South African society that were unfortunately not heeded until much later. In fact, I think that some of them have still not been heeded. An example: the book mentions a miners' strike which is getting out of hand… if Marikana does not ring a bell, look it up for yourself. I will not get polemical in this review, so I will leave it at that.Paton's writing is often described as poetical, and just as often compared to that of the King James Bible. A not quite salubrious comparison, in my opinion. Just as reading too much of the KJ can be taxing, so Paton's truncated dialogue and limpid prose can become a bit much. I found out short pieces of his writing better than the novel as a whole. Admittedly, it is a short novel, so not much of a problem. What did bother me more was Paton's somewhat unlikely denouement. It seemed a bit too neat and final, especially considering the events that followed this era in South Africa. Paton's dislike of capitalism was also a bit too polemical in the novel, too prescriptive rather than descriptive.That said, I found the novel thought-provoking and rich. I do not think it is the best South African novel of the last century, but who am I to be setting up canons anyway? It made me realise how far South Africans have come since the Apartheid days, but also reminded me how far we still have to go. An exemplary tale.