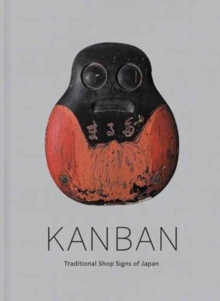 Kanban : Traditional Shop Signs of Japan
Hardback
Description
A glimpse into the markets, crafts, and signage of early modern Japan Kanban are the traditional signs Japanese merchants displayed on the street to advertise their presence, represent the products and services to be found inside their shops, and lend a sense of individuality to the shops themselves.
Created from wood, bamboo, iron, paper, fabric, gold leaf, and lacquer, these unique objects evoke the frenetic market scenes of nineteenth- and twentieth-century Japan, where merchants created a multifaceted world of symbol and meaning designed to engage the viewer and entice the customer. Kanban provides a tantalizing look at this distinctive fusion of art and commerce.
This beautifully illustrated book traces the history of shop signs in Japan, examines how they were created, and explores some of the businesses and trades they advertised.
Some kanban are elongated panels of lacquered wood painted with elegant calligraphy and striking images, while others are ornately carved representative sculptures of munificent deities or carp climbing waterfalls.
There are oversized functional Buddhist prayer beads, and everyday objects such as tobacco pipes, shoes, combs, and writing brushes. The book also includes archival photographs of market life in "old Japan," woodblock prints of bustling marketplaces, and images of the goods advertised with these intricate and beguiling objects. Providing a look into a unique, handmade world, Kanban offers new insights into Japan's commercial and artistic roots, the evolution of trade, the links between commerce and entertainment, and the emergence of mass consumer culture. Exhibition schedule: Mingei International Museum, San Diego April 15-October 15, 2017
Information
Format: Hardback
Pages: 160 pages, 155 color illus.
Publisher: Princeton University Press
Publication Date: 18/04/2017
Category: Oriental art
ISBN: 9780691176475
Free Home Delivery
on all orders
Pick up orders
from local bookshops