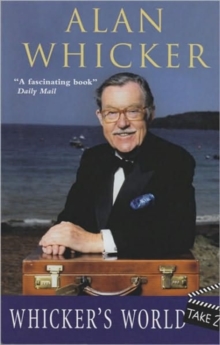 Whicker's World : Take 2
Paperback / softback
Description
Following on from the best-selling first volume of his autobiography, Within Whicker's World, Alan Whicker presents a hugely entertaining and characteristically insightful second volume that will delight his army of devoted fans.
We've all been around the world many times with Alan Whicker - and every expedition has been fun.
Our guide and travelling companion for over forty years, this wry observer has revealed secret worlds and let us eavesdrop on the powerful, the villainous, the exotic...Throughout his years as Foreign Correspondent and then television's Man Around the World, Whicker has covered everything from wars and revolutions to plastic surgery and mudmen.
His belief that you can ask anyone anything as long as you do it pleasantly gained him access to the elusive and the secret: voodoo rituals in Haiti, drug squads in Singapore, bank raids in San Francisco, ashrams in India, polar bears in Alaska - even the social fortress of Palm Beach.
With instinctive curiosity and a nose for a great story, he has lived a life of adventure, excitement and danger, winning a raft of awards from peers and public.
His genius is to make everything that happens in Whicker's World look easy. This lightness of touch encourages the hesitant interviewee, disarms the threatening Dictator.
Whicker has influenced a generation of fellow journalists, helped the careers of a gaggle of impersonators and, most important of all, encouraged the rest of us to travel and explore.
In this book, we go with him to the palaces of the Sultan of Brunei, watch Luciano Pavarotti make life hell on a paradise island and consider the mysterious death of a colleague on the First Sea Lord's flagship.
We learn why India is the best place to murder your husband, and discover the amiable Mexican sponger who was a top state secret policeman.
We meet a little old Californian lady who always shot them straight between the eyes and a dolphin who accepts credit cards.
In a dusty African game park one cheetah and 156 people struggle to overcome a Masai curse
Information
Format: Paperback / softback
Pages: 336 pages, 2 x 8pp colour plates
Publisher: Carlton Books Ltd
Publication Date: 02/01/2002
Category: Biography: general
ISBN: 9780233050195
Free Home Delivery
on all orders
Pick up orders
from local bookshops