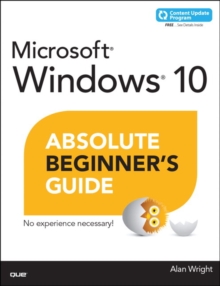 Windows 10 Absolute Beginner's Guide (includes Content Update Program)
Paperback / softback
Description
Book + Content Update ProgramMake the most of your new Windows 10 device-without needing to be a technical expert!
This book is the fastest way to take control of Windows 10, and use it to create, connect, and discover... simplify and organize your whole life... learn more, play more, do more, live better! This book will show you how to do what you want, the way you want, one incredibly clear and easy step at a time.
Windows 10 has never, ever been this simple! Who knew how simple Windows 10 could be? This is the easiest, most practical beginner's guide to using your new Windows 10 desktop, notebook, or tablet... simple, reliable instructions for doing everything you really want to do! Here's a small sample of what you'll learn:Make the new Windows 10 Start menu work just the way you wantTweak Windows to reflect your personality and maximize your securityReliably connect to your home network or public Wi-FiMaster the speedy new Microsoft Edge web browserInstall and use the best new Windows Store appsEnjoy all of your digital photos, videos, movies, and musicFind whatever you're looking for-or let Cortana find it for youUse free OneDrive cloud storage to store, sync, and back up your filesPlay games and media through Xbox LiveManage all email from one easy app: Outlook, Gmail, Yahoo!, and moreShare files and printers the easy way with HomegroupsRetrieve up-to-the-minute news, sports, weather, and financial dataSet up the notifications you want-and turn off those you don't wantCreate efficient virtual desktops to get more done fasterConnect multiple monitors to one computerKeep your computer safe and healthy-painlessly Alan Wright has spent a decade providing IT support to enterprises, small businesses, and residential users.
He holds several certifications from CompTIA and Microsoft, was technical editor on Using Windows 8 and Microsoft Project 2013 In Depth, and co-authored both Windows 8.1: Absolute Beginner's Guide and Visio 2013: Absolute Beginner's Guide.
Information
Format: Paperback / softback
Pages: 528 pages
Publisher: Pearson Education (US)
Publication Date: 14/09/2015
Category: Microsoft Windows
ISBN: 9780789754561