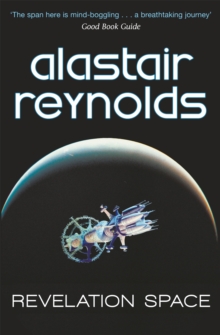 Revelation Space
Paperback
Description
Nine hundred thousand years ago, something wiped out the Amarantin.
For the human colonists now settling the Amarantin homeworld Resurgam, it's of little more than academic interest, even after the discovery of a long-hidden, almost perfect Amarantin city and a colossal statue of a winged Amarantin.
For brilliant but ruthless scientist Dan Sylveste, it's more than merelty intellectual curiosity - and he will stop at nothing to get at the truth.
Even if the truth costs him everything. But the Amarantin were wiped out for a reason, and that danger is closer and greater than even Syveste imagines ...REVELATION SPACE: a huge, magnificent space opera that ranges across the known and unknown universe ... towards the most terrifying of destinations.
Information
Format: Paperback
Pages: 576 pages
Publisher: Orion Publishing Co
Publication Date: 11/12/2008
Category: Science fiction
ISBN: 9780575083097
Other Formats
Paperback from £9.39
EPUB from £6.99
Multiple copy pack from £19.45
Free Home Delivery
on all orders
Pick up orders
from local bookshops
Reviews
Showing 1 - 5 of 6 reviews.
Previous | Next
Review by Explorations
16/06/2015
Although I found the storyline and technologies in this universe quite imaginative, at some point about a third into the novel, I couldn't help but feel that the haphazardly constructed dialogue and cookie-cutter tough guy/girl characters severely reduced the pleasure I had reading it.A few passages consisting of essentially objective descriptions of locations and creative technologies left me wanting more, but instead I ended up having to drag myself through the rather muddled and cliffhanger-ridden final two thirds. Some interesting thoughts about artificial intelligence, sadly few and far between. Still, I might end up reading some more novels by this guy.
Review by penwing
16/06/2015
I'm torn by this book. On the positive side, it's a good story and an interesting universe. On the negative side, he write as if I'm an idiot - telling us the same thing in three or four different ways in the same paragraph and seeming to expect each time to be a revelation. Hint, if you call something a "cache-weapon" I already know it's a weapon.
Review by Widsith
16/06/2015
One day the world will be full of science fiction authors whose prose styles are as good as their imaginations. Yeah, there are a few. But on the evidence of this book, Alastair Reynolds isn't one of them.What this novel does have going for it is a great theory of how the galaxy might look in 500 years' time. The picture painted here – of a lonely universe, full of space and mysteries and still limited by barriers like the speed of light – feels distinctly plausible and, presumably, owes a lot to Reynolds's day-job as a working astrophysicist.There are other good points. Thanks Christ, here is a sci-fi author who writes good, strong women characters who are not just there to have a variety of unlikely futuristic sexual encounters. (...Although actually, thinking about it, one or two of those might not have gone amiss.)The problem is that it's just not written all that well. The dialogue never strikes you as very realistic, and often consists of characters sitting around explaining chunks of the plot to each other. The narrative is pushed along in brief third-person sections, which stop and start apparently for no other reason than to engineer some dramatic tension, and which tend to finish on portentous one-line paragraphs like "But she was not quite fast enough."Some sentences barely hold together. We are told strange things, such as when "Volyova dredged a clucking laugh from somewhere deep inside herself". Try visualising that if you can. And when Reynolds reaches for a suitably scientific metaphor, he has a way of bludgeoning the life out of it, with unintentionally comic effect.<i>Sylveste examined his own state of mind and found – it was the last thing he had expected – total calm. But it was like the calm that existed on the metallic hydrogen oceans of the gas giant planets further out from Pavonis – only maintained by crushing pressures from above and below.</i>I think that might be the worst paragraph I've read all year. It should be entered into some kind of competition.Anyway, I don't want to put you off too much. It's fun, it's interesting, it's just not doing much to fight for sci-fi's place in literature. <i>Revelation Space</i>: it's funky, but it's clunky.
Review by MikeFinn
16/06/2015
This was a book where I could engage with the ideas and the plot but not with the characters. I'd seen Reynolds compared to Ian Banks, Ken MacLeod and Neil Asher, so I had high hopes of this book. On the plus side: the ideas are bold, plentiful and on a galaxy-spanning scale; the plot is clever and well executed; the world/culture/technology mix is convincing and sometimes intriguing and the writing style is clear and accessible. The downside is that I couldn't bring myself to care what happened to any of the characters. The book is 567 pages and I read at least the last 100 pages just to find the answer to the riddle rather than because I cared if the characters lived or died. This book is the first in a series and, despite the impressive ideas and clearly described worlds in this one, i feel no desire to read the rest. I think I'll pick up something by Banks or Asher or Morgan instead.
Review by Paganmoon
16/06/2015
The overall story was intriguing, but it moved too slowly, and choppy, also there was no sense of urgency about anything that happened. <br/><br/>The author had a tendency to go trough the events of the last chapter once again, in the next one, just in case you'd forgotten what happened two pages ago, this didn't only happen between chapters but sometimes even within them.<br/><br/>The characters didn't feel real in a sense, the story takes place over a few decades for some of the characters but you get no sense of development. Most characters don't even behave the same between chapters, one in particular (Khouri), seems to cycle between acting and speaking like a five year old, and a soldier. Though that could be attributed partly to the poorly written dialog, where it simply seemed it was a characters turn to speak, to move the story along, not that the character had anything real to say in a given situation. Exposition dialog.<br/>Simply put, the characters were so flat I felt nothing but indifference towards their predicaments, it did not matter to me if any particular lived or died.
Also in the S.F. Masterworks series | View all