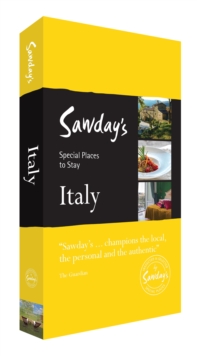 Description
Here are hundreds of irresistible excuses for going to Italy.
Be welcomed and utterly seduced by the vitality and sheer authenticity of Italy and its people.
This collection of over 400 places provides ready-made friends and contacts, with beautiful and interesting houses to spend time in.
Stay in a B&B at the foot of Mount Etna, a 16th-century monastery on the Italian Lakes, a medieval hamlet in Le Marche - there's even an entire village in Tuscany.
Find plenty to do and learn too; there are yoga retreats and art & drama workshops, we have one farm that runs pottery and textile holidays another where you can go truffle hunting or honey collecting.
Plus our Ethical Collection, marked on entry pages, highlights owners' commitment to the environment, the community or to serving local or organic food. * Over 17 years of experience have gone into Sawday's most exciting collection of special places to stay in Italy, with over 400 properties listed - many of which are new for this edition* Coverage is country-wide, including Sicily and Sardinia and emerging tourist regions like the Aeolian islands and Campania.
You'll find self-catering places of all sizes - for two or for an entire wedding party* Places are chosen only after inspection, to suit all budgets and occasions and many of them have rooms for EURO100 or less for two people.
Good value for money is important at whatever price* Clear symbols, excellent maps, over 750 colour photos, and honest and lively write-ups take the hard work out of finding the perfect place for your special stay
Free Home Delivery
on all orders
Pick up orders
from local bookshops
Also in the Alastair Sawday's Special Places to Stay series | View all