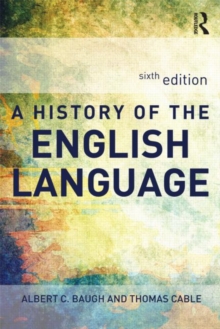 A History of the English Language
Paperback
Description
**NOT FOR SALE IN THE USA, CANADA OR THE PHILIPPINES** A History of the English Language explores the linguistic and cultural development of English from the Roman conquest of England to the present day to provide a comprehensive overview of the different aspects of its history.
This best-selling classic textbook has been revised and updated and encourages the reader to develop both an understanding of present-day English and an enlightened attitude toward the issues affecting the language today.
New features of the sixth edition include: * an additional chapter titled 'English in the Twenty-first Century', which examines the future of English and other global languages and includes an assessment of Chinese as a world language * an in-depth treatment of phonological changes, such as the placement of the Great Vowel Shift as a bridge between Middle English and Renaissance English * further coverage of corpus linguistics, especially for Renaissance English * fresh sections on accent and register * a new survey of the recent debate between "creolists" and "neo-Anglicists" on the origins of African American Vernacular English. Balanced and wide-ranging, this textbook is a must-read for any student studying the history of the English language
Other Formats
Hardback from £61.65
Paperback from £39.35
Free Home Delivery
on all orders
Pick up orders
from local bookshops
Reviews
Showing 1 - 1 of 1 reviews.
Review by annbury
27/08/2015
This thorough and informative history of our language is an excellent choice for those interested in the topic, fitting the history of the language into the context of the history of its speakers. It is academically solid, with copious notes and extensive bibliographies: in fact, it would be an excellent text for a course in the history of English. But this is also a useful book for the general reader with an interest in the topic. It is clear, jargon free, and interesting to read. For me, the most interesting part of the book were the sections on Old English and Middle English, where the author shows very clearly how the entry of various words into English reflected a changing political climate.