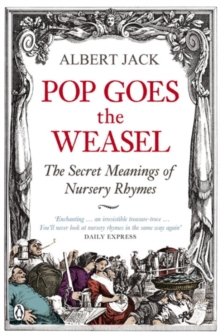 Pop Goes the Weasel : The Secret Meanings of Nursery Rhymes
Paperback
Description
In Pop Goes the Weasel, Albert Jack explores the strange and fascinating histories behind the nursery rhymes we thought we knew, showing that their real meanings are far from innocent.Who were Mary Quite Contrary and Georgie Porgie?
How could Hey Diddle Diddle offer an essential astronomy lesson? And if Ring a Ring a Roses isn't about catching the plague, then what is it really about?
This ingenious book delves into the hidden meanings of the nursery rhymes and songs we all know so well and discovers all kinds of strange tales ranging from Viking raids to firewalking and from political rebellion to slaves being smuggled to freedom.From the grim true story behind 'Oranges and Lemons' to the deadly secrets of Mary Quite Contrary's garden, and from how Lucy Locket lost more than her pocket to why Humpty Dumpty wasn't egg-shaped at all, Pop Goes the Weasel is a compendium of surprising stories you won't be able to resist passing on to everyone you know.'An irresistible treasure-trove' Daily Mirror'Most of us can still recite the words to nursery rhymes we learned as children, but how many know the real meanings behind our most familiar verses?
Albert Jack reveals hidden histories of cannons, courtesans and vengeful queens' Guardian'The history behind nursery rhymes is not only highly specific but often splendidly grim' The Times Albert Jack has become something of a publishing phenomenon, clocking up hundreds of thousands of sales with his series of bestselling adventures tracing the fantastic stories behind everyday phrases (Red Herrings and White Elephants), the world's great mysteries (Loch Ness Monsters and Raining Frogs) and nursery rhymes (Pop Goes the Weasel).
Information
Format: Paperback
Pages: 320 pages, 40 b/w illustrations
Publisher: Penguin Books Ltd
Publication Date: 07/10/2010
Category: Humour
ISBN: 9780141030982
Free Home Delivery
on all orders
Pick up orders
from local bookshops
Reviews
Showing 1 - 1 of 1 reviews.
Review by waltzmn
16/06/2015
Get ready for a wild ride.Nursery rhymes often mean more than we realize, and there is an honorable tradition of collecting them and trying to figure out what they mean. Some of these books -- notably Iona and Peter Opie's <i>Oxford Dictionary of Nursery Rhymes</i> -- are excellent pieces of scholarship. Some -- like the word of Katherine Elwes Thomas -- are closer to drug dreams.This book is somewhere in the middle, but leaning toward the wild side. Take "Jack Sprat." Jack-the-author suggests that this was inspired by the reign of King Richard the Lion-hearted, who was imprisoned in Austria, forcing the English to scrape up a huge ransom -- i.e. to "lick the platter clean." This is historical enough, and England was indeed scraped bare to get back their hard-fighting nitwit of a king. But Richard I was king from 1189 to 1199 -- the early Plantagenet period. Richard -- who spend only six months of his reign in England -- spoke no English, and even if he had, the English of the time was early Middle English, not Modern English. "Jack Spratt" could not have been composed in Middle English.So there is a lot of material here that is purely speculative or, in some cases, wrong. Of course, some of it is right as well. It's not a bad book; it simply needs to be controlled. The Opie book would be a good start. But this is a lot cheaper....