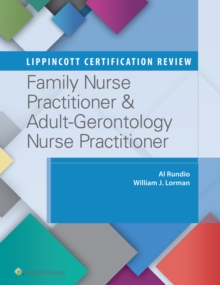 Lippincott Certification Review: Family Nurse Practitioner & Adult-Gerontology Nurse Practitioner
Paperback / softback
Description
Prepping for certification as an adult-gerontology or family nurse practitioner?
Lippincott Certification Review is your map to success. Written by experts in the field, this unique review guide offers up-to-date case studies drawn from real clinical scenarios, with all content and review questions addressing the areas covered in the certification exams.
Whether you are preparing for the American Nurses Credentialing Center (ANCC) or American Academy of Nurse Practitioners (AANP) certification exam, this is your ideal resource. Prepare to ace the AANP or ANCC certification exam, with this expert overview offering:Up-to-date information covering exam content , with more than 500 end-of-chapter practice questions in ANCC and AANP formatChapters organized by body system , addressing all age groups from infants to eldersFour or five real-world clinical case studies per body system that offer:Practice in the decision-making skills and critical thinking required for a successful advanced practiceInstruction in ANCC/AANP standards of careTen end-of-chapter review questions for each case study, with answers/rationales, backed by illustrations or photos when neededChapters beginning with a case study followed by clinical diagnoses and the content most likely to appear on a board exam, covering:Description of the diseaseEpidemiology and etiologyRisk factorsSigns and symptomsDifferential diagnosesDiagnostic studiesTreatment - both pharmacologic and nonpharmacologicChapters cover areas including:Health promotion - Tests and screenings, counseling and interventions, nutrition and exercise guidelines, and vaccinations/immunizationsDisorders by body system - Musculoskeletal, cardiovascular, endocrine, hematopoietic, pulmonary, GI, and immuneWomen's and men's health, common neuro-psychiatric disorders, dermatology, gerontology, and HEENT assessmentsPediatric and adolescent reviewProfessional issuesEasy-read bulleted format illustrated with tables, charts, and call-outs that make key points easy to rememberAbout the EditorsAl Rundio, PhD, DNP, RN, APRN, CARN-AP, NEA-BC, is Clinical Professor of Nursing and Associate Dean for Post Licensure Nursing Programs for the RN to BSN Program, the Graduate Nursing and Doctoral Programs, and CNE at the College of Nursing and Health Professions at Drexel University. William J. Lorman, PhD, MSN, PMHNP-BC, CARN-AP, is Vice President and Chief Clinical Officer at Livengrin Foundation, Inc., and an Assistant Clinical Professor at the College of Nursing and Health Professions at Drexel University.
Information
Format: Paperback / softback
Pages: 485 pages, 15
Publisher: Lippincott Williams and Wilkins
Publication Date: 01/11/2016
Category: Nursing
ISBN: 9781496306586
Free Home Delivery
on all orders
Pick up orders
from local bookshops