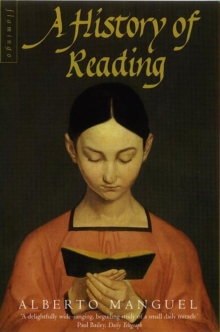 A History of Reading
Paperback
Description
This study of the history of reading goes from the earliest examples of the clay tablets and cuneiform of ancient Mesopotamia and Egypt via the invention of printing in the 15th century to the birth of a mass reading public and today's digital revolution.
It argues that it is the demands and expectations of the reader, acting alongside the creative will of the writer, that is the evolutionary motor of literary forms and genres.
From man's first use of the written word simply as a form of reference, to the emergence of the first holy or devotional texts, and onto the development of fictions, both poetic and novelistic, this work aims to both challenge and enlighten.
Free Home Delivery
on all orders
Pick up orders
from local bookshops
Reviews
Showing 1 - 3 of 3 reviews.
Review by john257hopper
16/06/2015
This was an interesting and reflective look at the history of reading and books, touching inevitably on the history of education and indeed of human thought generally. Densely erudite in some places, but delightfully light touch in many others. Some interesting nuggets such as:·Reading, even to oneself for pleasure, was very largely carried out aloud until early Medieval times; only in about the fourth century AD did silent reading become more accepted. ·Reading and writing were initially seen as destroyers of human memory and therefore bad things. Well worth dipping into, and some interesting and unusual illustrations as well. 4/5
Review by Praj05
16/06/2015
Even though I am in the midst of reading of this book, every page is a passage to scintillating information. It clears the misconception of reading being restricted to literacy(books) and moves on to this unbelievable plethora of deciphering methods for gaining wisdom and knowledge. From primitive methods of reading faces,pictures to highly cultivated medium of materials, this book is not only an enlightment but also a wonderful gift to a hungry mind.
Review by DinadansFriend
16/06/2015
A very interesting investigation about the process of acquiring information by eye. What a lot of polysyllabics to say that this is a good book about reading as well as containing a certain amount of autobiography about a South American poet of some stature.