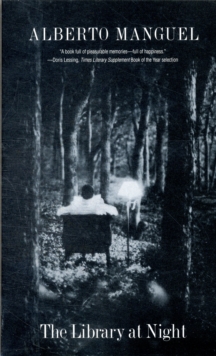 The Library at Night
Paperback
Description
Inspired by the process of creating a library for his fifteenth-century home near the Loire, in France, Alberto Manguel, the acclaimed writer on books and reading, has taken up the subject of libraries. "Libraries," he says, "have always seemed to me pleasantly mad places, and for as long as I can remember I've been seduced by their labyrinthine logic." In this personal, deliberately unsystematic, and wide-ranging book, he offers a captivating meditation on the meaning of libraries.
Manguel, a guide of irrepressible enthusiasm, conducts a unique library tour that extends from his childhood bookshelves to the "complete" libraries of the Internet, from Ancient Egypt and Greece to the Arab world, from China and Rome to Google.
He ponders the doomed library of Alexandria as well as the personal libraries of Charles Dickens, Jorge Luis Borges, and others.
He recounts stories of people who have struggled against tyranny to preserve freedom of thought-the Polish librarian who smuggled books to safety as the Nazis began their destruction of Jewish libraries; the Afghani bookseller who kept his store open through decades of unrest. Oral "memory libraries" kept alive by prisoners, libraries of banned books, the imaginary library of Count Dracula, the library of books never written-Manguel illuminates the mysteries of libraries as no other writer could.
With scores of wonderful images throughout, The Library at Night is a fascinating voyage through Manguel's mind, memory, and vast knowledge of books and civilizations.
Information
Format: Paperback
Pages: 400 pages, 76 b-w illus.
Publisher: Yale University Press
Publication Date: 17/04/2009
Category: Library & information sciences
ISBN: 9780300151305
Free Home Delivery
on all orders
Pick up orders
from local bookshops
Reviews
Showing 1 - 5 of 12 reviews.
Previous | Next
Review by armillarygal
16/06/2015
I rarely buy a hardcover book, but this one I want to make sure lasts and doesn't disintegrate when I go back to reread it many times in the future. This is the book I've been looking for for the past seven or eight years. I thought I was going to have to write it myself, but I could never have done justice with poetic language and far-ranging experience to the subject as Manguel does.
Review by VirginiaGill
16/06/2015
I've read this book twice now and just love it. It manages to share the passion for books in a way that even non bibliophiles could appreciate. Every time I stand with a new book in hand trying to decide where to shelf it lines from this book drift through my mind and make me smile.
Review by snash
16/06/2015
The book is a series of musings about libraries, their organization, their physical housing, what's included, what's omitted etc and what they mean to the individual and society. That part I found interesting but it also felt like the entire book was a platform for the author to show off his knowledge and familiarity with literature, particularly foreign and from antiquity.
Review by TCBard
16/06/2015
This book will be irresistible to any member of Library Thing. As a sample: The rooms in which writers (that subspecies of readers) surround themselves with the materials they need for their work acquire an animal quality, like that of a den or a nest, holding the shape of their bodies and offering a container to their thoughts. Here the writer can make his own bed among the books, be as monogamous or polygamous a reader as he wishes, choose an approved classic or an ignored newcomer, leave arguments unfinished, start on any page opened by chance, spend the night reading out loud so as to hear his own voice read back to him, in Virgil's famous words, under "the friendly silence of the soundless moon."
Review by lycomayflower
16/06/2015
A series of essays about libraries--about what they mean to us, how they are organized, what they say about us. Pleasant reading full of history of a literary sort.