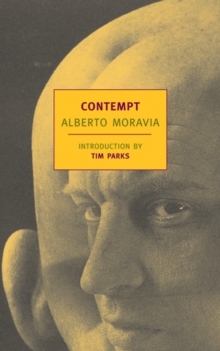 Information
Format: Paperback
Pages: 272 pages
Publisher: The New York Review of Books, Inc
Publication Date: 09/01/1999
ISBN: 9781590171226
Free Home Delivery
on all orders
Pick up orders
from local bookshops
Reviews
Showing 1 - 3 of 3 reviews.
Review by fieldnotes
16/06/2015
"I was not so much meditating as stirring together in my mind the cold, acid flavors of the various feelings, all of them disagreeable, that agitated me." "I was all nerves and imagination, morbidly sensitive and complex."Molteni, your narrator, never more accurately describes both his personal weaknesses and his narrative style. There are no rays of light in "Contempt." This novel incarcerates a reader within the arrogant and insecure psyche of an unsatisfied man. Molteni is incredibly self-conscious without being self-aware and certainly without being aware of his wife. "Contempt" centers around the total breakdown of his relationship with Emilia, who he introduces as follows: "I had not married a woman who could understand and share my ideas, tastes and ambitions; instead I had married, for her beauty, an uncultivated, simple typist, full, it seemed to me, of all the prejudices and ambitions of the class from which she came." That "seemed to me" clause is rather important. It should not be surprising that Molteni's classist portrait of his love-object should fall short as a true characterization. While Moravia succeeds in making Molteni's obsessions and anxieties seem plausible and addictive, he doesn't convince me, entirely, that someone could have his head buried so far up his ass as Molteni. A jealous and insecure man would be more aware of the implications of subjecting his wife to the courtship of another man and he would certainly be more reluctant to let her alone with any of her dashing suitors. However, the relentlessness of Molteni's self-sabotage makes for a riveting account and his wife, when she chooses to defend herself, is a more engaging character than I expected. "Contempt" could probably have done without the rather tedious parallel interpretations of "The Odyssey" with all of the psychoanalysis of Ulysses and the doubting of Penelope. The themes were relevant; but a bit heavy-handed and far too prevalent. Additionally, the dream/hallucination/ghost nonsense towards the book's conclusion clashed in real pin-the-tail-on-the-donkey sort of fashion with the rest of Moravia's work.If someone gave me specific reasons for reading another of Moravia's novels, I wouldn't object; but I'd make sure I knew what I was in for.
Review by yhaduong
16/06/2015
Moravia masterfully writes a novel about the contempt, real or imagined, between Molteni (the narrator) and his wife. Molteni's obsession reminded me of an insecure teenage girl. He was constantly second guessing himself, wondering if his wife still loved him or not. Every chapter he had a new revelation in which he figured out the source of his wife's contempt and every chapter he would be left guessing again whether she loved him or not and trying all manner of moves to win her love again. It's a short and very intense study into the one word, contempt.
Review by stillatim
16/06/2015
I never really got into this while I was reading it, but it's stuck in my head. Lots of these kind of a little bit existentialist books do that, I suppose. Good enough that I want to see the movie and read 'Boredom,' which might be a little less, well, boring.