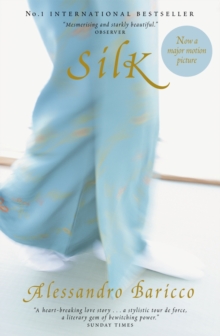 Silk : A Story of War
Paperback
Description
France, 1861. When an epidemic threatens to wipe out the silk trade in France, Herve Joncour (a young silkworm breeder) has to travel overland to distant Japan, out of bounds to foreigners, to smuggle out healthy silkworms. In the course of his secret negotiations with the local baron, Joncour's attention is arrested by the man's concubine, a girl who does not have oriental eyes.
Although they are unable to exchange so much as a word, love blossoms between them, a love that is conveyed in a number of recondite messages. How their secret affair develops is told in this remarkable love story.
Information
Format: Paperback
Pages: 160 pages
Publisher: Canongate Books Ltd
Publication Date: 07/09/2006
ISBN: 9781841958354
Free Home Delivery
on all orders
Pick up orders
from local bookshops
Reviews
Showing 1 - 5 of 7 reviews.
Previous | Next
Review by wendyrey
16/06/2015
More a prose peon than anything else,of short story length. a french man engaged in the silk trade travels regularily to the close world of ?19th century Japan , falls in love with a Japanese woman and she with him but they are barley able to talk and are culturay and socially seperate.Exquisite work.
Review by riverwillow
16/06/2015
I would have loved to have been able to read this in the original Italian, but as I can't I have to celebrate Ann Goldstein's translation which is beautifully delicate, just like the material it describes. I don't want to give too much of the story away, but just as a silkworm spins its thread, this book spins the tale of French silkworm merchant Herve Joncour's obsession for a Japanese concubine This is definitely a book where 'less is more', the chapters are extremely brief, the longest runs to four pages the shortest is just two lines and, like a poem, every word, every chapter break has been carefully considered.
Review by Booksloth
16/06/2015
A tiny book that asks a lot of questions - the first of them being, Where does prose end and poetry begin? Despite my having to read this in translation, the book still has a lyrical, poetic quality that makes it as much about the language as the story. My only problem was that I read it immediately on the heels of a massive great feast of a book of over 1,000 pages that was full of plot, and I'm not sure that my brain had fully changed gear. I suspect the ideal reading of Silk would take place alone in a sunny field, beach or mountain top, away from all distractions. And it could easily be done - it would only take a couple of hours out of a busy day.The questions that follow are all about love - What is it? Is there such a thing as love at first sight? What responsibilities do we have to the people we love and who love us in return? There was a point, fairly early on in the book, when I thought I might be reading just another of those self-pitying waffles about a man who betrays his wife in search of the perfect sexual experience with a woman he has never spoken to. It could, indeed have gone that way but Baricco is smarter than I gave him credit for. To say too much would be to spoil the book for other readers, so I will just say that it wasn't until the end that I realised what a sensitive and thoughtful book this is.I really need to read it again sometime under more congenial circumstances. At least, at a mere 148 sparely filled pages, that shouldn't be too much of a problem.
Review by thorold
16/06/2015
Most readers seem to find this book haunting and poetic, but I'm not so sure. It is certainly clever and elegant in its presentation of the story: the folktale-like structure with short chapters and extensive use of repetition, the delicate use of blank pages (where the publishers <i>really</i> make their profits), the imagery of birds and silk, etc. I haven't seen the film, but the book is clearly drafted in such a way that you could slot in a few headings and have a ready-made filmscript, so I'm sure it works very well on the screen.On the other hand, it seems to be little more than a shameless recycling of the old cliché of the industrial West and the passive East, dolled up with a few ironic touches to make it respectable. The eroticism struck me as no more convincing than that of a lingerie advertisement - again, cleverly done, building up slowly, and with an ironic get-out clause so that the author can't quite be accused of sexism or orientalism, but it still seems to be exploiting all the ways of representing women (passive, mysterious, sensual, silent,...) that go with the classic orientalist approach.
Review by BookMarkMe
16/06/2015
Having gorged myself on a diet of weighty Russian and India novels recently I scanned my bookcase for a palate cleanser. With no anticipation I began reading Silk.Reading the sparse pages in one sitting of almost poetry like prose, the often repetitive narrative captivated me. It drew me in much the same way as Herve Joncour was drawn to the round eyed, child faced concubine of Japan.The back story of the French – Oriental silk trade held my interest but mostly I was overwhelmed by the light, almost non-existent nature of the tale, silk like, you could say. I closed the book, sated, having been part of an evocative, sensual world, with a tear on my cheek.