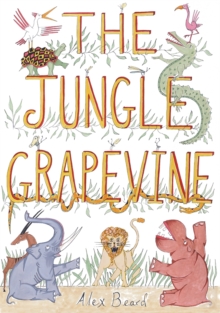 Jungle Grapevine
Paperback / softback
Description
In his children's book debut, fine artist Alex Beard brings to life an African savannah filled with humour and misunderstandings.
When Bird mixes up something Turtle says, he accidentally starts a rumour about the watering hole drying up.
One misunderstanding leads to another, with animals making their own hilarious assumptions.
No one is hearing anything right! Chaos spreads and the animals are soon in an uproar from one end of the jungle to the other.
Elephant is trumpeting, Croc is snapping and the Flamingoes are fleeing!
Beard's story will have every child wondering if peace can ever be restored in the animal kingdom.
Alex Beard has two galleries, one in New Orleans and the other in New York City.
Puzzles based on the The Jungle Grapevine will be launched in conjunction with this book in fall 2009.
Information
Format: Paperback / softback
Pages: 48 pages, 48 pages of full-color illustrations
Publisher: Abrams
Publication Date: 05/11/2010
Category: Animal stories
ISBN: 9780810997585