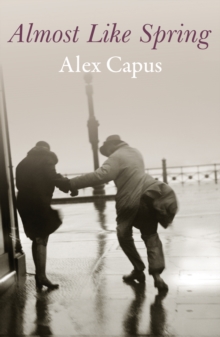 Almost Like Spring
Paperback / softback
Description
With brilliantly vivid irony, a mosaic of voices tells the true story of Switzerland's most notorious bank robbers: Kurt Sandweg and Waldemar Velte.
As 1933 draws to a close, the pair arrive in Basel from Wuppertal, Germany.
Rebels on the run, they are searching for an escape from the confines of a callously regimented society left impoverished by the Depression and the onset of Nazi power.
However, their desperation leads them to a realm outside reality, on a destructive path of vengeance for the world's abhorrent lack of justice.
Resolute on their doomed mission, neither expected to fall in love.
Seen through the benign eyes of Dorly Schupp, the agonising humanity of their relationships are sharply juxtaposed against the reckless cruelty of their crimes.
Yet in a world equally heartless and unremitting, who should shoulder the blame?
Capus relates the portrait of these chillingly charismatic figures in a curious blend of documentary and narrative where precision of detail collides with an economy of emotion, and leaves the desolation of their situation stark and blindingly poignant. Suspended between the tragic and comic, Capus' novel mimics the absurd idiosyncrasies of life where often nothing but interpretation is left to determine the sacred from the profane.
Information
Format: Paperback / softback
Pages: 160 pages
Publisher: Haus Publishing
Publication Date: 10/10/2013
ISBN: 9781908323330
Free Home Delivery
on all orders
Pick up orders
from local bookshops