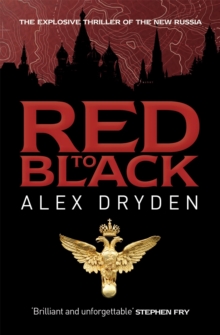 Description
A spy thriller, a love story and a chilling look at a resurgent superpower...At the dawn of the new millennium, Finn, an MI6 spy, and Anna, a colonel of the KGB, have been sent to spy on each other.
Instead they find a love that becomes to only truth they can trust.
A source deep within the Kremlin tells Finn of a plan, hatched in the depths of the Cold War, to dismantle the edifice of the communist state and to bring about the rise of a new imperium within Russia: a plan to control the whole of Europe.
Finn's masters in London are blinded by the new wealth pouring out of Russia and he must leave the Service and work in secrecy to uncover the deadly threat it poses to the freedom of every one of us.
Information
Format: Paperback
Pages: 512 pages
Publisher: Headline Publishing Group
Publication Date: 22/11/2008
ISBN: 9780755345014
Free Home Delivery
on all orders
Pick up orders
from local bookshops
Reviews
Showing 1 - 1 of 1 reviews.
Review by bcquinnsmom
16/06/2015
In Red to Black, Dryden (a pseudonym for security reasons!) has posited a plot so Machiavellian in scope that reading this book at times sent chills up and down my spine. Without a total rehash of the plot, the book follows a British MI-6 agent (Finn) who receives word from a spy deep within the government of Russian president Putin that there is a plan in the works that will make the Soviet takeover of Eastern Europe look like child's play. Told mainly through the view of Anna (a KGB colonel whose mission is to find out what Finn knows and how he knows, but who falls in love with Finn), the story takes the reader into an exploration of the world of greed, capitalism and power grabbing. Once I picked this book up, I could not put it down. Others have noted that they almost gave it up -- please don't! You'll miss a story just plausible enough to have you wondering if this could really happen. I thought the writing was good -- sparse enough so you're not bogged down in details but real enough to make it readable -- although I felt it probably could have been a bit shorter and we could have had less of Anna's internal conflicts. Also, the KGB didn't seem very smart at times even though they have networks upon networks of people and agents everywhere. But I think Dryden's got a winner here because a) the subject matter is pertinent to our modern world and b) it's simply a really good story. Recommended for people who enjoy good spy yarns, especially the old Cold War type novels. My thanks to Ecco Press who sent me a PDF of this book when I got in too late for galley requests, and to Amazon Vine, where I had forgotten that I'd requested this book!