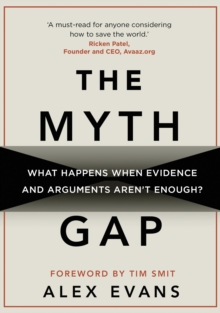 The Myth Gap : What Happens When Evidence and Arguments Aren't Enough
Hardback
Description
Why, with absolutely no idea what Brexit actually meant, did the UK vote for Brexit?Why, rather than vote for the best-qualified candidate ever to stand as US President, did voters opt for a reality TV star with no political experience?In both cases, the winning side promised change and offered hope.
They told a story voters longed to hear. And in the absence of greater, more unifying narratives, then true or not, voters plumped for the best story available. Once upon a time our society was rich in stories. They brought us together and helped us to understand the world and ourselves.
We called them myths. Today, we have a myth gap - a vacuum that Alex Evans argues powerfully and persuasively is both dangerous and an opportunity.
In this time of global crisis and transition- mass migration, inequality, resource scarcity, and climate change - It is stories, rather than facts and pie-charts,that will animate us and bring us together. It is by finding new myths, those that speak to us of renewal and restoration, that we will navigate our way to a better future. Drawing on his first-hand experience as a political adviser within British government and at the United Nations, and examining the history of climate change campaigning and recent contests such as Brexit and the US presidential election, Alex Evans explores: *how tomorrow's activists are using narratives for change, * how modern stories have been used and abused, * where we might find the right myths that will take us forward
Information
Format: Hardback
Pages: 176 pages
Publisher: Transworld Publishers Ltd
Publication Date: 12/01/2017
Category: Geopolitics
ISBN: 9781909513112
Also by Alex Evans