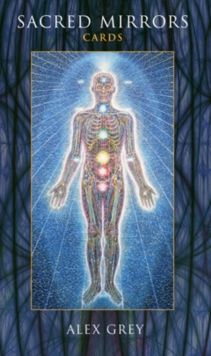 Sacred Mirrors Cards
Paperback / softback
Description
The Sacred Mirrors are a journey through our physical socio-political and spiritual anatomy.
The SACRED MIRRORS CARDS contains twenty-three meditation cards featuring reproductions of all twenty-one of Alex Grey's Sacred Mirrors paintings plus two additional transformative images: Oversoul and The Angel.
Grey's visionary poetry on the back of each card leads the meditator through contemplation of the image on the front of the card culminating in a one-word theme for reflection.
The twenty-three cards in this boxed set are intended to lead the viewer through the process of theosis - that is coming closer to God - through contemplation of iconic archetypes and seeing oneself each other and the world as a reflection of the divine. Alex Grey's two books of paintings have already realised massive sales: Sacred Mirrors has sold 90000 copies and Transfigurations 25000.
His work has been exhibited around the world including the New Museum and Stux Gallery in New York City the Chicago International Art Exposition; the London Regional Art Gallery in Canada the Grand Palais in Paris the Sao Paulo Biennial and ARK exhibition space in Tokyo.
In 1999 the Museum of Contemporary Art in San Diego honoured Grey with a mid-career retrospective.
His art has also been featured in venues as diverse as album covers for the Beastie Boys Nirvana and Tool; Newsweek magazine; and the Discovery Channel.
He lives in New York with his wife artist Allyson Grey and their daughter actress Zena Grey. 23 cards
Information
Format: Paperback / softback
Pages: 23 pages, 23 full-color cards
Publisher: Inner Traditions Bear and Company
Publication Date: 02/10/2006
ISBN: 9781594771620