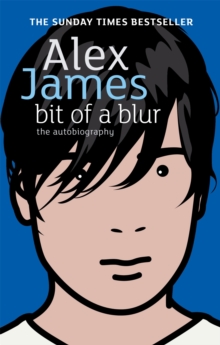 Bit of a Blur : The Autobiography
Paperback
Description
I was the Fool-king of Soho and the number-one slag in the Groucho Club, the second drunkest member of the world's drunkest band.
This was no disaster, though. It was a dream coming true.' For Alex James, music had always been a door to a more eventful life.
But as bass player of Blur - one of the most successful British bands of all time - his journey was more exciting and extreme than he could ever have predicted.
In Bit of a Blur he chronicles his journey from a slug-infested flat in Camberwell to a world of screaming fans and private jets - and his eventual search to find meaning and happiness (and, perhaps most importantly, the perfect cheese), in an increasingly surreal world.
Information
Format: Paperback
Pages: 288 pages, Section: 24, colour pix
Publisher: Little, Brown Book Group
Publication Date: 01/07/2008
Category: Rock & Pop music
ISBN: 9780349119939
Free Home Delivery
on all orders
Pick up orders
from local bookshops
Reviews
Showing 1 - 3 of 3 reviews.
Review by wendycook
16/06/2015
Brilliant to read but like living through a car crash. Shan't want to open it again.
Review by GingerbreadMan
16/06/2015
Follows the ordinary dramaturgical path of a rock star biography closely (dreaming - dynamic start - stardom - fights and conflicts - decadence - breakdown - wisdom) but really feels like it's pretty intelligent. The music nerd ex-indiepopper in me would probably have liked to read a little more about stuff like "the day we put chemical world together started with Dave inventing this badass drumbeat", but on the other hand it's quite refreshing with a book like this that spends a lot of time focusing on completely other things. Like space. Or flying. Or cheese. James comes across like a likable brat, and makes me dig out the old records and relive those late teenage years. Not bad.
Review by BenDV
16/06/2015
I got this book because I thought it would give some interesting insight into one of my favourite bands. But no. Alex James spends very little time talking about Blur- in fact you might be surprised to know he's in a band, based off most of this. Instead of talking about the dynamics of the group (hell he doesn't even mention anything about Graham leaving the band, from memory), inspiration and how they worked in the studio, James decides to just tell us about his various hedonistic excesses during his time as a rock star. He was living his dream and he just wants us to know that he really had a hell of a time getting totally off his face, having sex with randoms and waking up in strange places in a bizarre state. Maybe he thought telling these stories would be somehow original but, while somewhat funny, they're just totally typical. I wouldn't mind a few, but it really is almost all James talks about. And he doesn't get into emotional stuff most of the time, oh no, he just paints this entirely cliche picture of the sort of vacuous life rock stars live- even though he himself doesn't seem to realise how bad he makes himself look like through telling us all this crap and then claiming 'I never regretted it because I kind of thought it was my duty and all'. Despite attempts to make himself seem like a profound man through telling us about his interest in astronomy, cheese and buying a farm with his family in the Cotswolds, James still seems like a pretty vain, egotistical jerk to me. All that said, this isn't a bad book, I generally enjoyed it, but it took me months to finish, as one can only take so much of James talking about being drunk. The opening, up to and including the recording and touring of Leisure, were quite interesting. James gives some interesting insight on the beginning of his relationships with the rest of the band, and the early recording process. But after that he hardly seems to meet them, let alone record music with them. Really, I can't recommend this book, because you probably won't learn anything at all about Blur or what it's like to be a rock star, but it isn't a bad read if you choose to pick it up. Just not a very insightful one.