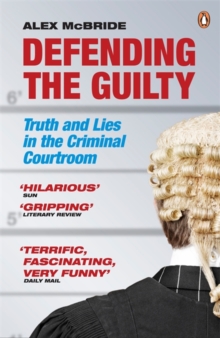 Defending the Guilty : Truth and Lies in the Criminal Courtroom
Paperback
Description
Shortlisted for the Crime Writers Award Gold Dagger for Non-Fiction, true crime meets humour in Defending the Guilty by Alex McBride, a hilariously funny and eye-opening Kitchen Confidential of the criminal justice system.Every day, criminal barrister Alex McBride stands up in court and attempts to save people from conviction, prison, even a lifetime behind bars.
Sometimes it's a hopeless case. Sometimes he has the chance to right a wrong. But mostly his clients are just plain guilty.In Defending the Guilty, McBride takes us behind the scenes of Britain's criminal justice system.
He introduces us to its extraordinary characters and arcane eccentricities, and tells astonishing stories of courtroom triumph and defeat.
Whether he's defending hapless teenagers at Harlow Youth Court or prosecuting gold bullion robbers at the Old Bailey, these hair-raising tales reveal that justice rarely operates in quite the way we expect.
Throughout, McBride grapples with that most important of questions: how do we ensure that the guilty are convicted and the innocent walk free?'Expert, authoritative, hilarious - an insider's fearless account of life at the criminal bar' Craig Raine, Times Literary Supplement, Books of the Year'McBride details his own cock-ups and disasters with the relish of the born humorous writer.
Very funny' Daily Mail'Rollicks along with a good eye for detail and a neat turn of phrase' Observer 'Gripping, engaging, compelling.
The real life of criminal barristers is expertly caught' Literary Review'Terrific, fascinating, very funny' Daily Mail'Hilarious'SunAlex McBride is a criminal barrister.
He is the author of the 'Common Law' column in Prospect magazine, has contributed to the New Statesman and various BBC programmes, including From Our Own Correspondent and is the editor of the Famous Trials Penguin Specials series.
Information
Format: Paperback
Pages: 288 pages
Publisher: Penguin Books Ltd
Publication Date: 01/03/2011
Category: Memoirs
ISBN: 9780141042725
Free Home Delivery
on all orders
Pick up orders
from local bookshops
Reviews
Showing 1 - 1 of 1 reviews.
Review by brokenangelkisses
16/06/2015
Could you defend someone you knew was guilty? Perhaps it would depend what they were guilty of, or what mitigating circumstances there were, or on your own experiences of England's legal system. Perhaps it would depend on more pragmatic considerations. Could you defend them in return for money, status and the prospect of job security? Criminal barrister Alex McBride does exactly that.What's it about?In 'Defending the Guilty' McBride writes about his experiences as a pupil barrister, which largely consist of defending and prosecuting the minor, predictable cases that the established barristers can't be bothered to take on. E.g. drug user charged with possession...again. This is bulked out by his thoughts and research on various aspects of the judicial system, from the basic (how England's adversarial process works) to the more complex and often worrying aspects of the process (why so many trials are derailed and why witness identification is often wrong).What's it like?Mildly interesting and often slightly amusing. You'll meet Arthur Sykes, who burned down the wrong office complex to cover up a burglary, (plea: not guilty) and confused Ollie, the drug dealer caught throwing away his stash who can remember the buses he supposedly took from his fictitious girlfriend's house, but not her house's number (plea: not guilty). There's also bomb-hoaxer Merv:'Hello, police.''I've put five incendiary bombs under Peckham Mental Health Centre. Nyaaahhh.''I'm sorry?''Bombs under Peckham nut house. Do you understand? F-ing fire bombs!'Pause.'Is that you, Merv?''No. It's not Merv.''Sounds like you, Merv.''F- off. S'not Merv. Fire bombs, I tell you. F-ing fire bombs. Under the nut house.'[Call discontinued but not before being traced back to...Merv's residence.]Alongside the minor crimes and aspiring criminals are some more serious incidents. McBride opens the prologue with an account of meeting a murderer which seems designed to pique the reader's interest, but also provides an opportunity to set out his own defence: someone has to defend the guilty. End of. Oh yeah, and winning feels really good.I would have liked more detailed discussion and thought about how barristers cope when defending truly repugnant characters and crimes, but this brisk approach is symptomatic of the book as a whole; issues are raised, briefly considered, McBride's viewpoint stated, and the focus moves on. It's clear from the praise selected for the front cover that 'Defending the Guilty' is primarily designed to entertain rather than properly educate. ('Hilarious' Sun, 'very funny' Daily Mail.)As the book progresses, McBride succeeds in outlining the basics - why we have jury trials, what a magistrate's court does - and raising key issues: is it better to risk locking up a few innocent men or risk a few guilty men slipping through? I found the issues raised interesting (and sometimes frustrating - it seems ridiculous that a trial can be derailed because a police officer has failed to bring a particular document with him to court), especially the recent changes in law which erased the distinction between arrestable and non-arrestable offences, which McBride claims means the police can basically arrest anyone for anything at any time.The author's strength is his willingness to see the funny side of everything: himself, his mistakes, his colleagues and his superiors ('[District Judge Cooper] rolled everything up, including the fines, and stuck you with forty-two days. If you were really naughty, you got fifty-six.') Perhaps to keep the tone light, or perhaps because it just isn't his area of expertise, there's no time spent on the victims. Of course, often the 'victims' are as bad as the perps, or seem to be once McBride has finished describing them.There's a lot of time spent on McBride's pupillage, especially the camaraderie of the pupil's room, which helps to give the text a strong sense of narrative. As the pupils smoke, moan and boast their way through the year, they all move closer to the end, but will they be leaving the pupils' room hanging their heads in shame or dancing with the delight of a secured tenancy? I didn't really care, but it did help create a clear structure to the text.Chapters are a reasonable length and are organised into five parts which cover basic training, chambers, proving your case, judgement and change. The structure appears more logical than the book really is, since the vast majority of the content is anecdotal and deals with interwoven issues. The prologue is just to whet readers' appetites and highlight the unreliability of getting 'justice' done while the epilogue wraps up Alex's pupillage, presumably to allow him to pen another book in future if this one does well enough.Final thoughtsThis is an interesting overview of some of the workings and peculiarities of the English criminal justice system. I found it easy to read and it generally kept my attention well. There are a few references at the end but I would have liked an index with ideas for further reading to gain more in-depth knowledge of the issues discussed. It didn't surprise me to learn that this book started life as an anecdotal column for a magazine, or that many passages have been lifted wholesale from the columns and thrown into the book; at its heart this is a chatty, slightly superficial look at life as a trainee barrister and in the courtrooms.I borrowed this from my library and I'm glad I did. The £9.99 RRP isn't eye-watering, though perhaps a little pricey for a relatively slim paperback (272 pages, including the index), but I wouldn't have found it good value if purchased at full-price, as I doubt that I would reread this. It's bound to be available for less than the RRP at the usual places and I'd have been happy to pay around the £6 mark: as long as you're in the mood for some light discussion rather than rigorous analysis, it's sufficiently interesting to while away the time.Read this if:- you want to be mildly entertained (and if you find people who clearly think swearing is funny entertaining);- you would like to gain some insights into how England's justice system works (or, indeed, doesn't);- you find it interesting to read about minor criminal endeavors and their outcomes.Avoid this if:- you want in-depth discussion of issues surrounding imprisonment, trials and the finer workings of England's justice system;- you dislike non-fiction texts which are largely anecdotal and assume a shared sense of (slightly puerile) humour;- you want thoughtful answers to the question McBride poses early on: how do we ensure that the guilty are convicted and the innocent go free?