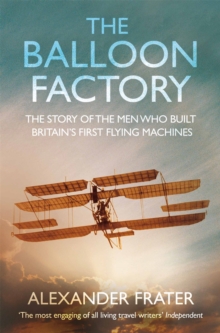 The Balloon Factory : The Story of the Men Who Built Britain's First Flying Machines
Paperback
Description
`Frater is a reliable, informed and entertaining navigator.
He soars confidently across the centuries, between abandoned aerodromes and Scottish estates, from one delightful anecdote to another' Sunday Times At the heart of his story lies the Balloon Factory, a cathedral-sized shed overlooking Farnborough Common, and its most celebrated occupant, the remarkable long-haired gun-toting ex-cowboy, Sam Cody.
Frater, in a work that is part history, part travelogue, goes in search of some of the most extraordinary pioneers, including Sam Cody, John William Dunne, Sir George Cayley and Geoffrey De Havilland.
His richly described and wonderfully anecdotal journey brings those magnificent men, the rock stars of their time, and the places they knew vibrantly to life. `Frater's book is a treasure chest of facts wrapped in anecdotes . . . The Balloon Factory should be purchased in bulk by BA and substituted for the glossy in-flight magazine' Literary Review `The Balloon Factory is the rarest of things - a thorough overview of a subject that manages to remain enjoyable and entertaining throughout.' BBC Focus magazine `Alexander Frater is a renowned travel writer with an infectious interest in early aviation, a strong practical grasp of aeronautics and a gift for lyrical description . . .' Sunday Telegraph `This is a beautifully written, amusing and educational tome . . . The author succeeds in really bringing the characters and events to life by visiting scenes of British aviation history, creating a real feeling for the people behind the events and doing it all in a way that you don't need an anorak and binoculars to appreciate.' Flyer magazine `One of my favourite non-fiction books of the year . . . ' Ham & High and the Wood & Vale
Information
Format: Paperback
Pages: 256 pages
Publisher: Pan Macmillan
Publication Date: 01/04/2009
Category: British & Irish history
ISBN: 9780330433112
Free Home Delivery
on all orders
Pick up orders
from local bookshops