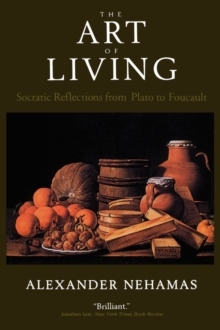 The Art of Living : Socratic Reflections from Plato to Foucault
Paperback
Description
For much of its history, philosophy was not merely a theoretical discipline but a way of life, an 'art of living'.
This practical aspect of philosophy has been much less dominant in modernity than it was in ancient Greece and Rome, when philosophers of all stripes kept returning to Socrates as a model for living.
The idea of philosophy as an art of living has survived in the works of such major modern authors as Montaigne, Nietzsche, and Foucault.
Each of these writers has used philosophical discussion as a means of establishing what a person is and how a worthwhile life is to be lived.
In this wide-ranging, brilliantly written account, Alexander Nehamas provides an incisive reevaluation of Socrates' place in the Western philosophical tradition and shows the importance of Socrates for Montaigne, Nietzsche, and Foucault.
Why does each of these philosophers - each fundamentally concerned with his own originality - return to Socrates as a model?
The answer lies in the irony that characterizes the Socrates we know from the Platonic dialogues.
Socratic irony creates a mask that prevents a view of what lies behind. How Socrates led the life he did, what enabled or inspired him, is never made evident.
No tenets are proposed. Socrates remains a silent and ambiguous character, forcing readers to come to their own conclusions about the art of life.
This, Nehamas shows, is what allowed Montaigne, Nietzsche, and Foucault to return to Socrates as a model without thereby compelling them to imitate him.
This highly readable, erudite study argues for the importance of the tradition within Western philosophy that is best described as 'the art of living' and casts Montaigne, Nietzsche, and Foucault as the three major modern representatives of this tradition.
Full of original ideas and challenging associations, this work will offer new ways of thinking about the philosophers Nehamas discusses and about the discipline of philosophy itself.
Information
Format: Paperback
Pages: 294 pages
Publisher: University of California Press
Publication Date: 11/02/2000
Category: History of Western philosophy
ISBN: 9780520224902
Free Home Delivery
on all orders
Pick up orders
from local bookshops
Reviews
Showing 1 - 1 of 1 reviews.
Review by lukeasrodgers
16/06/2015
Nehamas is a very capable and convincing writer, and the parts of the book that touch on Socrates and irony were particularly good. The overall argument will probably not be persuasive to someone who is not already convinced that the pursuit of a "life as art" is worthwhile. Nehamas doesn't counter potential (and in my case, actual) objections regarding the apparent frivolity and self-centredness of such approach. Nor does he address the broader moral issues around creating a life that, in its pursuit of individuality and particularity, explicitly eschews universalistic pretensions and seems to be inherently snobby in its attitude towards the mass of people who are either unable or unwilling to bother to create their lives as works of art.The chapters about Socrates and irony were more than able to outweigh what I felt to be the shortcomings of this book.
Also in the Sather Classical Lectures series | View all