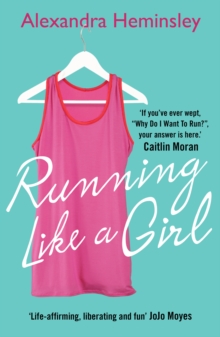 Running Like a Girl
Paperback / softback
Description
'If you've ever wept, "Why Do I Want To Run?" your answer is here.' Caitlin MoranAlexandra Heminsley had high hopes: the arse of an athlete, the waist of a supermodel, the speed of a gazelle.
Defeated by gyms and bored of yoga, she decided to run. Her first attempt did not end well. Six years later, she has run five marathons in two continents. But, as her dad says, you run with your head as much as with your legs.
So, while this is a book about running, it's not just about running. You could say it's about ambition (yes, getting out of bed on a rainy Sunday morning counts), relationships (including talking to the intimidating staff in the trainer shop), as well as your body (your boobs don't have to wobble when you run).
But it's also about realising that you can do more than you ever thought possible. Very funny, very honest and very emotional, whether you're in serious training or thinking about running for the bus, this is a book for anyone who after wine and crisps for supper a few too many times thinks they might . . . just might . . . like to run like a girl. Here's what people are saying about Running Like A Girl - and what it's inspired them to do!'This book has changed my attitude, I loved it from page one and found it totally relatable for the normal woman...
A real inspiration' - Clairol on Amazon, 5 stars'I adored this book... this is a must read' - Emily on Amazon, 5 stars'really opened my eyes and inspired me to continue running, fantastic read' - Kiyone on Amazon, 5 stars'I was so happy to start reading this fabulous book and realise that there was someone else out there who thought exactly as I did about 'not being a runner'' - J.
Watson on Amazon, 5 stars'It's not often I find a book that I can't put down and this is the first for ages! ... this book echoes so many of my own limiting beliefs constructed around this subject and it was a delight to hear how Alex faced up to her own demons and finally freed her running spirit.
Even if you never want to be a runner this is a fun read and an inspirational journey.' - Joy on Amazon, 5 stars'Inspirational...
Would recommend this book to anyone thinking of running!
Very well put together and has lots of information and tips' - Maria on Amazon, 5 stars'I laughed out loud... for anyone wanting to get into running you will be thinking of Alexandra when you are out there taking your first few strides, and you will be grinning!' - J.
Dunne on Amazon, 5 stars'The best thing about it is how inspiring the journey it is, how much it makes you want to get out there and run yourself.
Such a fantastic aid to the beginning of your running journey' - Emma on Amazon, 5 stars'I have been fighting with my running demons for over 12 months and had convinced myself that I couldn't run.
This book has inspired me to put my trainers on, join a club and enter three events' - Chimaera on Amazon, 5 stars'Laugh-out-loud funny in places but real, genuine experience of the world of running from someone who's been there, picked up the battered trainers and just run with it' - Helen on Amazon, 5 stars'hilarious - it just kept me hooked!' - Denise on Amazon, 5 stars
Information
Format:Paperback / softback
Pages:240 pages
Publisher:Cornerstone
Publication Date:16/01/2014
Category:
ISBN:9780099558958