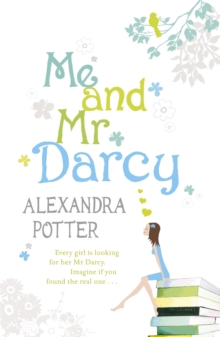 Me and Mr. Darcy
Paperback
Description
He's every woman's fantasy. After a string of nightmare relationships, Emily Albright has decided she's had it with modern-day men.
She'd rather pour herself a glass of wine, curl up with Pride and Prejudice and step into a time where men were dashing, devoted and honourable, strode across fields in breeches, their damp shirts clinging to their chests...So when her best friend invites her to Mexico for a week of margaritas and men, Emily decides to book a guided tour of Jane Austen country instead.
But she quickly realises she won't find her dream man here.
The coach tour is full of pensioners, apart from one Mr Spike Hargreaves, a foul-tempered journalist sent to write a piece on why Mr Darcy's been voted the man most women would love to date. Until she walks into a room and finds herself face-to-face with Darcy himself. And every woman's fantasy suddenly becomes one woman's reality...
Information
Format: Paperback
Pages: 352 pages
Publisher: Hodder & Stoughton General Division
Publication Date: 01/06/2007
Category: Romance
ISBN: 9780340841136
Free Home Delivery
on all orders
Pick up orders
from local bookshops
Reviews
Showing 1 - 5 of 5 reviews.
Review by librarymeg
16/06/2015
I was looking forward to reading this book, mainly because I am a fan of Jane Austen's work and have enjoyed many Austen-imitations in the past. I won't go so far as to say I hated this book, but I will say that I was disappointed. The story was set up to be a traditional, pleasant and predictable (especially for Austen fans) chick lit tale. Unfortunately, the author chose to add a regrettable and wholly unbelievable twist. I don't want to ruin the plot for those who still have the desire to read this book, but don't say I didn't warn you off.
Review by eesti23
16/06/2015
When book lover Emily Albright is invited on a club 18-30 holiday to Mexico with her best friend she can think of nothing else she would like to do least. And with a handful of awful dates behind her as well, she decides to take a Jane Austin book tour in the UK instead. Little did Emily know that she would be meeting some unusual characters along the way, least of all being the older ladies on the tour and journalist Spike Hargreaves. Adventure after adventure brings Emily closer to the man she has coveted for most of her life - Mr. Darcy - but in the end she starts to wonder if he is as great as she imagined.A cute book from Alexandra Potter if a bit predictable at times.
Review by SmithSJ01
16/06/2015
Mr Darcy may be every woman's fantasy but meeting this gorgeous specimen of a man reveals more to Emily Albright than she'd bargained for. This book is witty, enjoyable and engaging. Working in a job she loves (a book shop); she spends more time with her head buried between the covers of classics than embracing modern life. With a string of disastrous dates behind and an unwillingness to embark on the latest fashion item she is an unlikely heroine. Invited to attend Mexico with her outrageous friend, she opts for a tour of England, in particular Jane Austen country. The trip leads to misery, heart break and a soul searching experience bound up with fabulous romance and fiction. I loved this book and knowledge of `Pride and Prejudice' is not necessary as extracts are used throughout the book. I'm so pleased I read this and in places it reminded me of `The History of Lucy's Love Life in 10.5 Chapters'. A good plot, believable characters, excellent narrative - what more could you want from a few hours curled up on the sofa?
Review by LittleRach
16/06/2015
I love trashy chick-lit, but this was just WAY too contrived even for me. From about page 10 it was obvious just what was going to happen, and while Helen Fielding can get away with borrowing the plot of possibly the best love story ever, it's because she does it with style. This was just so blatant, so contrived that it was really, truly awful.Once I start a book, I have to finish it, but this was one book that I really wish I hadn't bothered with.
Review by Chase92
16/06/2015
Having read and enjoyed Potter's previous novel, Be Careful What You Wish For, I had high hopes for Me And Mr Darcy. It had a good premise, an awesome cover, likeable characters (except Emily, but I'll get to that later), and the writing is witty and stylish.So what's the problem with the novel? Well, if I'm to be honest, everything else.What I disliked most about the novel was its predictability. Throughout the novel, Potter includes quotations and extracts from the original Pride And Prejudice. Her intentions might be to get readers to realize the parallels between the events of the novel and that of Pride And Prejudice, but at the same time, the extracts sort of reveal what happens next. It also doesn't help that the plot is a bit clichéd.And then there's Emily. For someone who reads a lot, she's actually quite dumb. For instance, when she's packing for her trip to England, she fills her suitcase with books, and not one piece of garment, claiming that she'll only be gone for a week, and couldn't need that much clothes. She also has a problem of speaking her mind, and sometimes exaggerates things.This behavior has gotten her into numerous stressing situations, and at one instance, almost getting her killed. At the end of the novel, I find the supporting characters (all of whom are quite distinct, personality-wise) more likeable than Emily.In the end, I enjoyed Me And Mr Darcy, though not as much as Be Careful What You Wish For. Fans of Jane Austen and chick-lit might give this novel a try, but it'll do little to please others.