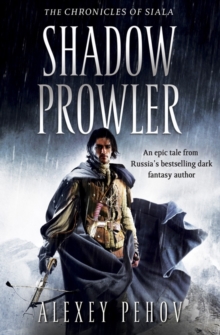 Description
After centuries of calm, the Nameless One is stirring.
An army is gathering: thousands of fellcreatures joining forces from across the Desolate Lands, united for the first time in history under one black banner.
By the spring, or perhaps sooner, the Nameless One and his forces will be at the walls of Avendoom.Unless Shadow Harold, master thief, can stop them.
Epic fantasy at its best, Shadow Prowler is the first in a trilogy that follows professional thief Shadow Harold on his quest for a long-lost artefact that will save the Kingdom of Siala.
Bound by oath to fulfil his commission, even if he dies trying, Harold is accompanied on his quest by a mysterious elfin princess, ten Wild Hearts -- the most dangerous fighters in the world -- and the King's court jester (who may be more than he seems ... or less). His journey will lead Harold towards a destiny greater and more perilous than he could imagine...
Information
Format: Paperback
Pages: 400 pages
Publisher: Simon & Schuster Ltd
Publication Date: 31/03/2011
Category: Fantasy
ISBN: 9781847396716
Free Home Delivery
on all orders
Pick up orders
from local bookshops
Reviews
Showing 1 - 3 of 3 reviews.
Review by AHS-Wolfy
16/06/2015
A fairly standard epic fantasy that's supposed to be quite big in Russia. This is a starter book of a trilogy which is being translated by Andrew Bromfield who did an admirable job of the <i>The Night Watch</i> series by <i>Sergei Lukyanenko</i>. The Nameless One is raising an army of the bad guys (giants, ogres and other fell creatures) and intends wreaking havoc on the divisive lands of the good guys, picking them off one by one until world domination is complete. The king of the first of those realms recruits master thief Shadow Harold to save the world, after he's passed a quick test to prove his worth that is. Harold accepts the commission, as the alternative is to rot inside of a prison that no-one has ever managed to escape from and gets busy making his preparations for the journey. It's obviously not quite as simple as that and by this time you're two thirds of the way through the book and the real quest hasn't even begun.After various adventures within the city, Harold and the chosen companions which include a princess of the Dark Elves along with two other elves (one Dark, one Light), a company of warriors from the Wild Hearts and the captain of the King's personal guard. They are soon caught up by the king's goblin jester who provides the light relief on the trip.After having said all that, <i>Shadow Prowler</i> is not a bad read but neither is it a very good one. There is nothing here to make it stand out from the crowd of dark fantasy novels currently available. The characters are well drawn and Harold is likeable enough and this is probably the book's most redeemable aspect along with the interplay of the group once assembled and set on their way can be quite fun. It does show promise and I'll read the second in the series and see how it goes from there. 3?'s
Review by Shimmin
16/06/2015
A fairly enjoyable read that just pleasantly whiled away a long journey for me. It's a mixture of high and low fantasy, though inclining upwards as the story progresses. I found the thief protagonist good company and the setting had enough novelty to keep me interested. Harold's criminal nature makes him a bit more fun than many heroes, and even partly justifies his habit of keeping things secret, though it does still seem to be for plot convenience at times.In many ways it's fairly tropish fantasy: Dark Lord rising somewhere, kingdoms squabble, Only You Can Save Mankind. There's a motley band of soldiers from the key races, a dotty jester who may be more than he seems, and a prophecy that seems to indicate the protagonist is a destined hero. To be honest those are not especially novel, but they're done competently and didn't fill me with boredom. Elements like the Hrad Spein and the Stain seem promising, and so far I've enjoyed the way magic and monsters are handled. Pehov's world isn't all clean-cut and noble; on the other hand, despite focusing on a thief and his exploits, it doesn't plummet into depressing grimdark. There is crime and betrayal and unpleasantness, but he doesn't dwell on suffering or on squalid and miserable things. It's a pragmatic take on things, which seems fitting for Harold, whose eyes we see through.The book has the common problem of quest fantasy in including few women, but does better than some; while there's only one woman in the Merry Band, there are at least a couple in flashbacks who play significant roles, and one (who may or may not be important) on the other side. From Harold's musings, I have a suspicion that Miralissa might end up as a love interest, which would be disappointing, but it hasn't happened so far. As the main magic-user of the group, I'm hoping she'll get more attention in future books as things (hopefully) get weirder.There are some issues with the writing / translation. At times it's interestingly quirky, while at other times it just feels clunkily translated. "Pardon me for the foolish pun, but the Street of the Sleepy Dog was sunk in a deep sleep." So... did you just forget to insert a pun, or..? There are also some names (especially army regiments) that I suspect worked a lot better in Russian. One chapter includes a poem or prophecy, which doesn't either rhyme or scan well; I wonder whether it did in the original (and was simply translated without rewriting it). It's possible that even in the original Pehov didn't see any need for it to rhyme, as in the story it's been translated from ancient Orcish, and maybe he didn't just feel the need include a comment about it - it's so hard to know with translations. Various sections feel uninspired, but it's not a case of consistent blandness that I'd tend to blame on Pehov, so I suspect it may be a translation issue. Typos are scattered lightly through the book, including 'explained' for 'exclaimed' at one point; it's a bit irritating but not a major problem. In general the book feels like it could really have done with a decent English editor and maybe another translator to help smooth things out; given Pehov's already doing well with the Watch series (which I haven't read, but is mentioned on the blurb) I'd have thought they could justify the effort. One particularly unfortunate line reads: "Elves look like people, except for their swarthy skin, yellow eyes, black lips and ash-grey hair. And those protruding fangs[...]". Firstly, it should probably say "like humans", because generally "people" makes more sense as a catch-all for intelligent races and "humans" is used elsewhere. Secondly, it implies that humans can't have swarthy skin, dark lips or grey hair, which obviously they can. Indeed, at least one human in the book is described as having swarthy skin, and grey hair is really pretty common. Though the book in is first-person narrative, there's nothing else to suggest Harold has such a narrow view of humanity, and lacking any such justification it's really best not to include sentences that can come off as a bit racist. I really feel like someone should have picked up and changed this sentence.The worldbuilding is mostly interesting and Pehov handles it fairly well, without huge infodumps. The dream sequences sometimes feel a bit overdone, or like excuses to tell the reader what's going on rather than necessary parts of the story, and unless there's a really interesting explanation in the end, I might be irritated.On the whole, though, it's reasonably written, has plenty of enjoyable scenes (I have a particular soft spot for thieving sections), monsters and magic I haven't seen before, and the protagonist is a reasonable companion. I had fun reading it and I'll be looking out for the sequel.
Review by wyvernfriend
16/06/2015
This one took me a long time to get into. In fact up to about 80 pages before the end I wasn't really planning to read the sequel, but somehow it crept up on me and I'm curious about Harold and what his future will be. It sounds like there's more to him than just thief and so curious about what's going to happen to him. Several of the other characters I'm not as invested in but now I have a fondness for him.A lot of this book is dedicated to setting up the world and the people in it and why the quest is so important, and there are also some moments of Harold being thrown into visions of the past which are also there to set up ambiance and do some worldbuilding. I felt that it is possibly a style from Russia but it's not my favourite style of fantasy story. Interesting and I'm reserving full judgement until I finish the next book.
Also in the THE CHRONICLES OF SIALA series | View all