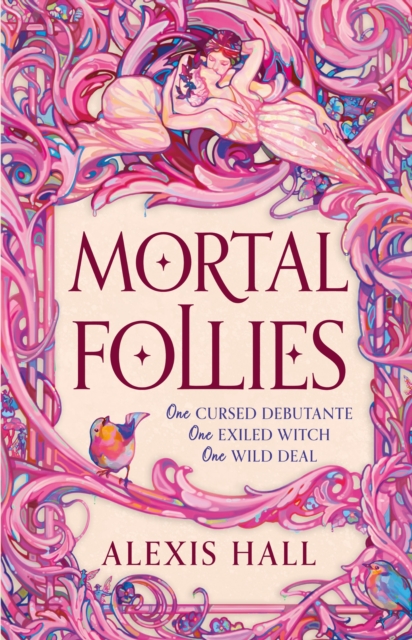 Mortal Follies : A devilishly funny Regency romantasy from the bestselling author of Boyfriend Material
Hardback
Description
'A lovely, pitch-perfect romance, with an alternate Regency setting that is well developed and has tremendous charm...
Part historical, part fantasy, all top-notch queer romance'KIRKUS REVIEWS (starred review)'A fresh and delightful addition to the queer romance canon...
All the interpersonal drama of Jane Austen meets all the complex treachery of Greek mythology'PUBLISHERS WEEKLY (starred review)'Whimsically wonderful, witty writing that evokes Jane Austen and Oscar Wilde...
An effervescent, genre-blurring romantic confection'BOOKLISTIt is the year 1814 and Miss Maelys Mitchelmore finds her entry into the highest society of Bath hindered by an irritating curse.
It begins innocuously enough, with her dress slowly unmaking itself over the course of an evening at the ball of the season, a scandal she only narrowly manages to escape. However, as the curse progresses to more fatal proportions, she realises she must seek out urgent assistance, even if that means mixing with the most undesirable company - and there are few less desirable allies than the brooding Lady Georgiana Landrake - who may or may not have murdered her own father and brothers to inherit their fortune. If one is to believe the gossip, she might be some kind of malign enchantress. Then again, a malign enchantress might be exactly what Miss Mitchelmore needs. A devilishly funny and heartwarming sapphic Regency romantasy from TikTok titan and bestselling author of Boyfriend Material Alexis Hall, Mortal Follies is unmissable for fans of Juno Dawson's Her Majesty's Royal Coven, Sophie Irwin's A Lady's Guide to Fortune Hunting, and Freya Marske's A Marvellous Light. What readers are saying:'This book is just delightful.
Hall is so talented at writing funny, sexy rom-coms that leave me with the biggest smile on my face, and this one is no exception' Kiley, 5* NetGalley review'A frolicsome delight, which is as much about stories, and how stories are told, as anything else.
Thanks (yet again) for the joy, Alexis Hall' Melissa, 5* NetGalley review'Such a lot of fun!
For anyone who loves Georgette Heyer-esque Regency historical rom-coms, you'll adore the tonnish style of the plot, and for those of us who love magic and witchery and faerie, then having Robin Goodfellow as the narrator adds a lot of wry humour' Lynne, 5* NetGalley review'I LOVED this book!
It's fun, exciting, tumultuous and sapphic. It's incredibly written with one of the most enjoyable narrators I've read...
Kept me on the edge of my seat and not wanting to put my book down, even at 3am...
Will be recommending to all my friends' Anonymous, 5* NetGalley review'Be still my beating heart.
I absolutely loved this! This book is perfect for readers who love Bridgerton' Bee, 5* NetGalley review'So much fun to read' Courtney, 5* NetGalley review
Information
Format:Hardback
Pages:416 pages
Publisher:Orion Publishing Co
Publication Date:06/06/2023
Category:
ISBN:9781399616430
Information
Format:Hardback
Pages:416 pages
Publisher:Orion Publishing Co
Publication Date:06/06/2023
Category:
ISBN:9781399616430