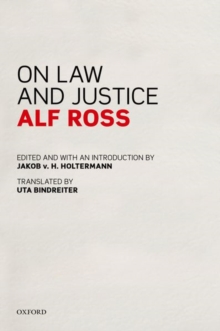 On Law and Justice
Hardback
Description
On Law and Justice by Alf Ross (1899-1979) is a classic work of twentieth-century legal philosophy.
The first translation into English was notably poor and abridged, and it misrepresented Ross's views.
Translated from scratch and in full length from the original Danish, this new critical edition casts light on Ross's work and resituates it firmly in the context of current debates in the field.
Ross was, in H.L.A. Hart's words, 'the most acute and best-equipped philosopher' of Scandinavian legal realism.
On Law and Justice provides a comprehensive outline of his legal realist position, offering a consistently empirical research programme that simultaneously recognizes the distinctly normative character of law.
Ross's legal realism avoids the standard critiques against behaviourist reductionism while still remaining categorically distinct from legal positivism and natural law.
This new edition features an introduction by Jakob v.
H. Holtermann, clarifying Ross's general philosophical project and detailing the sophisticated dual distinction between internal and external aspects of law that provides a counterpoint to Hart's celebrated analysis.
This new translation will allow readers to appreciate Ross's insights into the ongoing empirical turn in legal scholarship and related attempts to associate legal realism with broader philosophical trends.
Information
Format: Hardback
Pages: 576 pages
Publisher: Oxford University Press
Publication Date: 04/12/2019
Category: Ethics & moral philosophy
ISBN: 9780198716105