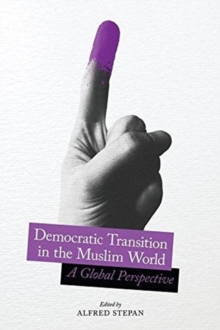 Democratic Transition in the Muslim World : A Global Perspective
Hardback
Description
In early 2011, widespread protests ousted dictatorial regimes in both Tunisia and Egypt.
Within a few years, Tunisia successfully held parliamentary and presidential elections and witnessed a peaceful transition of power, while the Egyptian military went on to seize power and institute authoritarian control.
What explains the success and failure of transitions to democracy in these two countries, and how might they speak to democratic transition attempts in other Muslim-majority countries?Democratic Transition in the Muslim World convenes leading scholars to consider the implications of democratic success in Tunisia and failure in Egypt in comparative perspective.
Alongside case studies of Indonesia, Senegal, and India, contributors analyze similarities and differences among democratizing countries with large Muslim populations, considering universal challenges as well as each nation's particular obstacles.
A central theme is the need to understand the conditions under which it becomes possible to craft pro-democratic coalitions among secularists and Islamists.
Essays discuss the dynamics of secularist fears of Islamist electoral success, the role of secular constituencies in authoritarian regimes' resilience, and the prospects for moderation among both secularist and Islamist political actors.
They delve into topics such as the role of the army and foreign military aid, Middle Eastern constitutions, and the role of the Muslim Brotherhood.
The book also includes an essay by the founder and president of Tunisia's Ennadha Party, Rachid Ghannouchi, who discusses the political strategies his party chose to pursue.
Information
Format: Hardback
Pages: 272 pages
Publisher: Columbia University Press
Publication Date: 13/03/2018
Category: Comparative politics
ISBN: 9780231184304