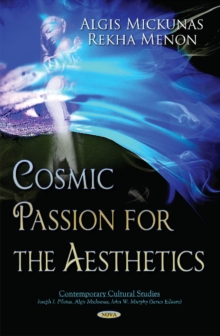 Cosmic Passion for the Aesthetics
Hardback
Description
In this book, the authors present current research in the study of Cosmic Passion for the Aesthetic.
It engages arts from different tradition, showing their cultural contexts and discloses dimensions of awareness that transgress the characteristics of art works.
This book delves into the deeper meaning of art, and shows how various cultures attempt to suppress other cultures and their arts, and how the suppressed reappear and reassert themselves in new contexts.
It travels through different conceptions, speculations, definitions and portrays how the aesthetic, the expressive, that is not identical with the characteristics of an art work, is what all art works attempt to capture.
The aesthetic encompasses the passionate dimension which is not limited or reducible to anything -- it is cosmic.
The latter is disclosed by the aesthetic passion that is most apparent in comparative studies of arts, above all through examining the art of India, the text visually captures the aesthetic, cosmic passion.
In addition, it questions what is aesthetic value, judgements on art, the authors draw on how the depictions of the cosmic in art can assume a way of understanding specific interpretation of space, time and movement prior to any theological, mythical, theoretical or even scientific explanations and portray a flow of sensuous envelopment which resonates with cosmic passion.
This book would interest not only artists, but students of cultures and comparative civilisations, and indeed for those who are interested in the ways that cosmic awareness has been and is being explicated in civilisations.
Information
Format: Hardback
Pages: 188 pages
Publisher: Nova Science Publishers Inc
Publication Date: 23/01/2014
Category: Philosophy: aesthetics
ISBN: 9781629482002