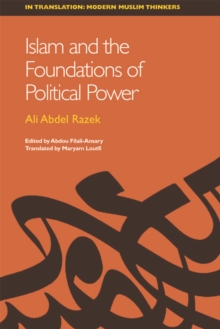 Islam and the Foundations of Political Power
Paperback / softback
Description
This is the first English translation of this controversial essay that challenged fundamental ideas about political power.
Egypt, 1925: the Muslim world is in turmoil over Mustapha Kamal Ataturk's proposal to abolish the caliphate in Turkey.
The debate over Islam and politics re-ignites as traditional political systems dissolve under pressure from European powers and most Muslim countries lose their sovereignty.
Into this debate enters Ali Abdel Razek, a religious cleric trained at Al-Azhar University, arguing in favour of secularism in his essay 'Islam and the Foundations of Political Power', translated here and published in paperback for the first time.
It includes a substantial introduction that places the essay in its context and explains its impact.
It features an appendix of Razek's sources with full publication details.
It includes explanatory notes beside Razek's original footnotes.
There are additional notes about particular people, events or vocabulary that may be unfamiliar to modern readers.
Information
Format: Paperback / softback
Pages: 144 pages
Publisher: Edinburgh University Press
Publication Date: 30/09/2013
Category: Islam
ISBN: 9780748689835