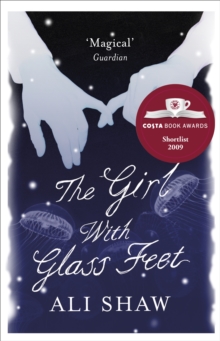 The Girl with Glass Feet
Paperback
Description
A mysterious metamorphosis has taken hold of Ida MacLaird - she is slowly turning into glass.
Fragile and determined to find a cure, she returns to the strange, enchanted island where she believes the transformation began, in search of reclusive Henry Fuwa, the one man who might just be able to help...
Instead she meets Midas Crook, and another transformation begins: as Midas helps Ida come to terms with her condition, they fall in love.
What they need most is time - and time is slipping away fast.
Information
Format: Paperback
Pages: 304 pages
Publisher: Atlantic Books
Publication Date: 01/12/2009
ISBN: 9781843549208
Free Home Delivery
on all orders
Pick up orders
from local bookshops
Reviews
Showing 1 - 3 of 3 reviews.
Review by Mumineurope
16/06/2015
An odd love story about weird characters in a fairy tale land
Review by missizicks
16/06/2015
This was quite an easy read. I didn't warm to it at first, the style seemed quite mundane, like so much other writing that makes you wonder occasionally who people know in order to be published. But it turned into an interesting allegory for dysfunction and emotional illiteracy and the need to seize the moment because who knows what might happen tomorrow? Some ideas worked, others were a distraction from the real story. Over all, it was okay.
Review by Bagpuss
02/03/2016
Something odd is happening to Ida – she's turning into glass from the feet up. It started off in her toes – she noticed they were becoming a pale milky colour, and eventually they turned into pure glass – and now it's spreading up past her ankles. She is certain that she caught whatever strange disease this is from an island she visited on holiday called St Hauda's Land and so, wearing a pair of sturdy books to protect her fragile feet, she returns there to find the man she thinks caused the problem. <br/><br/>Whilst on the island, she meets a young man called Midas, who takes a photograph of her. He's captured by her beauty and absolutely transfixed by her, despite the fact that he thinks there is something odd about the boots! They meet again, and are immediately attracted, but Ida is reticent to let Midas know what's wrong with her, and Midas is unable to get close to Ida, even though he'd like to. Whilst she's asleep he pulls off her boots and is shocked at what he sees. He takes a photograph of her feet. She eventually tells him what is happening and he resolves to help her track down Henry Fuwa – the man she thinks can cure her.<br/><br/>St Hauda's Land is a cold place and that coldness comes across so well in the writing, as does the beauty of the place and the strangeness of the wildlife. This is a fairytale and Shaw writes with beauty, but can all fairytales have a happy ending…?<br/><br/>A brilliant adult fairytale from a debut writer.