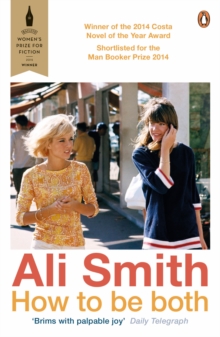 Description
WINNER OF THE BAILEYS WOMEN'S PRIZE FOR FICTION 2015WINNER OF THE GOLDSMITHS PRIZE 2014SHORTLISTED FOR THE MAN BOOKER PRIZE 2014WINNER OF THE 2014 COSTA NOVEL AWARDWINNER OF THE SALTIRE SOCIETY LITERARY BOOK OF THE YEAR AWARD 2014NOMINATED FOR THE FOLIO PRIZE 2015How to be both is the dazzling, award-winning novel by Ali SmithPassionate, compassionate, vitally inventive and scrupulously playful, Ali Smith's novels are like nothing else.
How to be both is a novel all about art's versatility.
Borrowing from painting's fresco technique to make an original literary double-take, it's a fast-moving genre-bending conversation between forms, times, truths and fictions.
There's a renaissance artist of the 1460s. There's the child of a child of the 1960s. Two tales of love and injustice twist into a singular yarn where time gets timeless, structural gets playful, knowing gets mysterious, fictional gets real - and all life's givens get given a second chance. 'Brims with palpable joy' Daily Telegraph'She's a genius, genuinely modern in the heroic, glorious sense' Alain de Botton'I take my hat off to Ali Smith.
Her writing lifts the soul' Evening Standard
Information
Format: Paperback
Pages: 384 pages
Publisher: Penguin Books Ltd
Publication Date: 16/04/2015
ISBN: 9780141025209
Other Formats
EPUB from £4.99
CD-Audio from £15.45
Free Home Delivery
on all orders
Pick up orders
from local bookshops
Reviews
Showing 1 - 2 of 2 reviews.
Review by Roseredlee
11/07/2015
Absolutely loved this book. I had no idea what to expect (I try never to read reviews before the book) and therefore plunged into the narrative of the medieval painter unaware that more was to follow. Unlike other reviewers here, I had no feeling that Smith was using gimmickry, or that her plunge into a mediaeval psyche was forced or strained (and I wasn't jarred by the occasional 21C colloquialism which of course could be attributed to this story being told by Georgia and H - the narrative questions proliferate). The stories of Francescho and Georgia fed into and illuminated and deepened the effect of each - particularly with regard to the importance of the mothers in their lives. So, a novel in which nothing is taken for granted, an exhilarating fictional exploration of what we are looking for in art - and fiction, how we interpret - and misinterpret - what we see, and how what goes around comes around, in mysterious (an important word in the book, which is profoundly concerned with words and their meanings and translations) ways. The opening of the medieval section is a tour de force, and the density of thought required to read this quite short novel, the beauty of the writing, reminded me of Virginia Woolf (especially Orlando!) Highly recommended.
Review by bodachliath
27/08/2015
Ali Smith is becoming something of a national treasure, and this is one of her best books yet. I must admit that I had doubts about what I'd read of the concept (two interlinked stories that can be read either way round), but the writing is too strong to be constrained by the structure. In my copy, the modern section comes first - this story of a grieving teenager learning about her mother via art and her interest in a 15th century Italian artist. This is familiar territory for Smith, who is very strong on young people and their quirky views on the world. The other half is a bolder departure, imagining the artist as a sort of spirit able to reminisce about the past while observing the modern world, and particularly the girl. Sexual ambiguity is a recurring theme - the artist turns out to be woman masquerading as a man, which made the book very interesting to read just after reading Siri Hustvedt's "The Blazing world". Both parts are full of dazzling language, ideas, playfulness and observation.