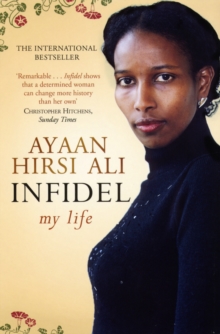 Description
Ayaan Hirsi Ali is one of today's most admired and controversial political figures.
She burst into international headlines following the murder of Theo van Gogh by an Islamist who threatened she would be next.
An international bestseller, her life story INFIDEL shows the coming of age of this elegant, distinguished -- and sometimes reviled -- political superstar and champion of free speech.
Ultimately a celebration of triumph over adversity, Hirsi Ali's story tells how a bright, curious, dutiful little girl evolves into a pioneering freedom fighter.
As Western governments struggle to balance democratic ideals with religious pressures, no other book could be more timely, or more significant.
Information
Format: Paperback
Pages: 384 pages, 8pp b-w plates
Publisher: Simon & Schuster
Publication Date: 03/03/2008
ISBN: 9781416526247
Free Home Delivery
on all orders
Pick up orders
from local bookshops
Reviews
Showing 1 - 3 of 3 reviews.
Review by AzureMountain
16/06/2015
I may not entirely agree with Ms. Ali's viewpoints, but I am inspired by her memoir and her journey.
Review by PennyAnne
16/06/2015
Profound and important - not so much for her descriptions of clan life in Somalia or of female genital mutilation but for what she has to say about the rights of women and children in Muslim cultures and how the West's desire to embrace multiculturalism and tolerance may be doing an immense disservice to Muslim women everywhere.
Review by Marlene-NL
16/06/2015
Wow, what a great book. I wish I had written this review the moment I'd finished it cause that was about 3 weeks ago and I had so many things to say. Now of course I forgot.<br/><br/>I do know that I loved it and thought provoking. It became a bit harder for me to read once she got to my country cause that made me so angry. In 1993 we already had so many refugees living in this country and people were complaining about it and reading this there is the proof that so many of them lied but what angered me more is that they want to live here but then they look down to us. (not everybody but majority) They were allowed to live like they used to live, (Year null) and not mix. We now have so many mosques here and many problems. Still most to blame is the government who allowed this. Anyways, I very much admire Ayaan Hirsi Ali and wish there were more people like her. Highly recommend this book.