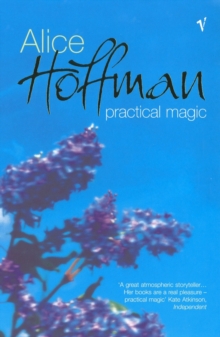 Practical Magic
Paperback
Description
Sisters Gillian and Sally Owens were brought up by their two elderly guardian aunts in a world of spells and exotica.
As the magical charm of their childhood wears away, they escape from this mystical mayhem - one by running away, the other by marrying.
Many years go by before strange circumstances thrust them together again, and once more they are in a place that blends the mundane and mysterious, the familiar and fantastic.
Three generations of Owens women are brought together in an experience of unexpected insight and revelation, teaching all of them that such perceptions are rare and wonderful and - to be sure - practical.
Information
Format: Paperback
Pages: 288 pages
Publisher: Vintage Publishing
Publication Date: 04/04/2002
ISBN: 9780099429173
Other Formats
Paperback from £7.45
eAudiobook MP3 from £9.20
Free Home Delivery
on all orders
Pick up orders
from local bookshops
Reviews
Showing 1 - 4 of 4 reviews.
Review by Rhinoa
16/06/2015
Sisters Gillian and Sally grew up with their Aunts after their parents died in a house fire. There the aunts make a living by doing spells at twilight for the local people (usually woman seeking love). The girls learn about the dangers of love and the mistrust of the townspeople. As they grow older Gillian becomes a beautiful young woman who has many short lived relationships before running away to get married. Sally on the other hand just wants a normal life.She falls in love, marries and has two children, Antonia and Kylie, but her happiness is short lived when her husband dies. She breaks down before pulling herself together to bring up her daughters alone. She never allows herself to fall in love and doesn't even date. Her normal life is throw out the window when Gillian arrives out of the blue with her current (and abusive) boyfriend Jimmy dead after giving him too much nightshade to make him sleep. They bury him in the back gadren, but he refuses to stay there for long and soon his malicious spirit is causing the family terrible luck. Kylie and Antonia are going through puberty and to make matters worse an investigator comes looking for Jimmy with regard to some of his more recent crimes. The investigator may be just what Sally needs...I love the film and was really looking forward to reading this despite some mixed reviews online. I really like Alice Hoffman and really loved this novel. It's hard to describe the differences between the book and the film, but the book focuses more on the practical rather than the magic and the movie is the other way around. It's a little like the differences between Chocolat the film and novel. I loved getting to know the Owens family and really related to Kylie the most trying to find her place in the world.
Review by phoebesmum
16/06/2015
Just for starters – almost no resemblance to the movie of the same title, other than the names of the characters! Lovely writing, and beautifully rendered characterisation, in particular the youngest daughter. But I missed the aunts.
Review by elliepotten
16/06/2015
I'm afraid I ruined this book for myself somewhat by having already seen the film a fair few times. Back before I'd even heard of Alice Hoffman, <i>Practical Magic</i> was one of my favourite movies! As so often happens when I watch an adaptation first, I found myself comparing screen to page too often, and inadvertently reading certain parts faster than I should, waiting for the two versions to tie up again.This, however, is not Hoffman's fault in any way, hence my 4-star rating. It might even have toppled <i>The Ice Queen</i> from its position as my favourite Hoffman novel so far, had it not been for the movie thing. Anyone who's read Hoffman before knows what to expect: a beautifully written, wistful novel blending elements of magic (and more subtle magical realism) with strong, unusual characters and an exploration of the bonds we form with places, lovers and family.In <i>Practical Magic</i> the story revolves around Gillian and Sally, the beautiful Owens sisters. Orphaned at a young age, they have had a strange upbringing in their aunts' house, where they are simultaneously feared and revered by the local townspeople. Desperate to escape, Gillian runs away to seek her own path and Sally marries a wonderful man and has two headstrong daughters. But when Sally loses her husband in a tragic accident, and Gillian accidentally kills hers, the two are reunited at last. Will Sally's teenage daughters, Kylie and Antonia, make peace with each other and be happy? Will Gillian and the aunts reconcile their differences? Will Sally ever find love again? And will they finally escape the dark and vengeful spirit of Gillian's abusive husband, which casts its bitter shadow across their whole existence?If you've seen the film, read this anyway - but go into it with a more open mind than I did, because there are substantial differences between the two. If you haven't seen the film, then I highly recommend the book. Hoffman is such a lyrical and haunting writer, and Gillian, Sally and their quirky aunts are some of the most appealing and relatable characters I've come across in her books yet. I still love the movie though!
Review by suepk
16/06/2015
Having been a lover of the film I was eager to read this book when it was bought as a gift for me. If you have not watched the film then I would suggest reading the book first. The book is quite different in terms of the children of Sally being a lot older and the main bulk of the story is set away from the aunts house.<br/><br/>If I had to choose book or film then I would choose film because it is a lovely story and that house is really special. In the book the house is made out to be a dark and dingy place that neither Sally or Gillian could wait to get away from. Of course this is true in the film too, but the house is much lovelier in the film.<br/><br/>There are some very good aspects to the story in the book that aren't in the film, but as they centre on Sally's daughter's being teenagers then it is understandable why they aren't in the film.<br/><br/>I doubt I would read this again, whereas I have watched the film at least twenty times!