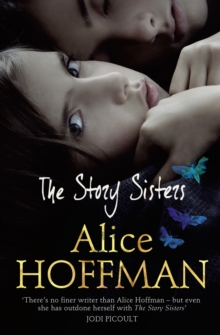 The Story Sisters
Paperback
Description
A haunting and emotionally satisfying novel from a much-loved and critically acclaimed author, which weaves fairy tale and gritty realism together to dazzlingly effect.`The Story Sisters' charts the lives of three sisters - Elv, Claire and Meg.
Each has a fate she must meet alone: one on a country road, one in the streets of Paris, and one in the corridors of her own imagination.
Inhabiting their world are a charismatic man who cannot tell the truth, a neighbor who is not who he appears to be, a clumsy boy in Paris who falls in love and stays there, a detective who finds his heart's desire, and a demon who will not let go.What does a mother do when one of her children goes astray?
How does she save one daughter without sacrificing the others?
How deep can love go, and how far can it take you?At once a coming-of-age tale, a family saga, and a love story of erotic longing, `The Story Sisters' sifts through the miraculous and the mundane as the girls become women and their choices haunt them, change them and, finally, redeem them.
Information
Format: Paperback
Pages: 336 pages
Publisher: HarperCollins Publishers
Publication Date: 27/05/2010
ISBN: 9780007351527
Free Home Delivery
on all orders
Pick up orders
from local bookshops
Reviews
Showing 1 - 5 of 5 reviews.
Review by Virtual_Jo
16/06/2015
Alice Hoffman is one of my favourite writers and this story about the close relationship between three sisters, which is destroyed by a horrific act, is utterly compelling and believable.
Review by gaskella
16/06/2015
Elv, Claire and Meg Story are sisters. They're extremely close, inventing a language all of their own – Arnish – even their mother is excluded from their fantasy world, and the younger two are always rapt with Elv's storytelling about the fairy land of Arnelle. Theirs is a world full of women, their parents having divorced some time ago, and they also revered their French grandmother Natalia, who lives in Paris which has a strong attraction for the girls. Then one day, Elv rescues Claire from a nasty encounter with a man and that event, despite remaining a secret, will change everything. When she reaches sixteen, Elv begins to go off the rails, taking drugs, partying and other reckless behaviour …"She found the tattoo shop. Patrons were supposed to be eighteen, but Elv looked old enough, as if she knew what she wanted, so no one asked for ID. She had two black stars tattooed above each shoulder, in the place where her wings would be. She found the pain soothing in a strange way, a gateway out of her body, into Arnelle. There was an army gathering there: the Queen had posted them at the doorway. Anyone residing in the human world was suspect, including Elv. Prove yourself, one of the guards said to her. She was wearing a black dress. Black ballet shoes. She could smell jasmine. The tattoo artist was a bit leery now that her shirt was off. He said, 'This might hurt.' As if she cared about that. He covered the tattoos with white bandages. 'There might be some blood seeping through,' he told her. As if that mattered."Soon her behaviour is so bad, her parents come together again momentarily to take her to reform school where she meets and falls totally in love with Lorry, the junkie and petty criminal brother of another inmate. Poor damaged Elv is intent on exploring the dark side of life as she grows into a woman, but although she totally dominates the book, the other sisters and their mother will have their brush with fate too. You can't help but hope for some kind of happy ending.Hoffman is brilliant at weaving a hint of the supernatural into a drama and turning it into something special. I found The Story Sisters a much darker novel than the last one of hers that I read, The Ice Queen. Both are about love, but The Story Sisters with its exploration of sisterhood, entwined with the secrets and twists of fate was also an affecting read.
Review by mrn945
16/06/2015
From childhood I loved fairy tales. There was something so beautiful about the ideals of chivalry, bravery, and love. The Story Sisters is a re-imagining of the classic ideas of a fairy tale, with one small change. The ending is not always happy, but instead a new beginning.The story is about three beautiful sisters, all quite different. One of the sisters saves another from a brutal attack, irrevocably altering the paths of all of their lives. Secrets are closely guarded and anger festers until it breaks the family apart.I like how Ms. Hoffman dealt with the oldest sister's guilt and pain through her drug addiction, as well as how the younger sisters interacted with her larger-than-life antics. All of the families interactions (in particular the re-working of familial hierarchy as one sister would fall as another rises) felt very real, despite the fantasy haze to the scenes.Ms. Hoffman writes so lyrically that I would probably read her shopping lists and be happy. This is the best novel of her's that I've read so far though, and I highly recommend it.
Review by amz310783
16/06/2015
I think this could be the most depressing book I've ever read.
Review by hashford
16/06/2015
This is a family saga, detailing the lives of the three story sisters. The eldest girl, Elv, endures a nasty attack when they are all young; this secret not only blights Elv's life but also alters the relationships between the three girls and affects all their lives.This book is beautifully written in typical Alice Hoffman style – where things are hinted at rather than directly told, and have all the more emotional power because of it. I was glad it had a happy ending – it would have been too much to bear otherwise!