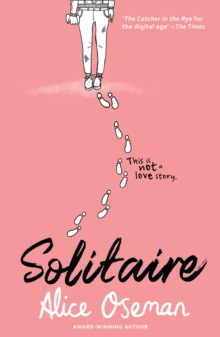 Description
In case you're wondering, this is not a love story."The Catcher in the Rye for the digital age" The TimesMy name is Tori Spring.
I like to sleep and I like to blog. Last year - before all that stuff with Charlie and before I had to face the harsh realities of A-Levels and university applications and the fact that one day I really will have to start talking to people - I had friends.
Things were very different, I guess, but that's all over now.Now there's Solitaire. And Michael Holden.I don't know what Solitaire are trying to do, and I don't care about Michael Holden.I really don't.This incredible debut novel by outstanding young author Alice Oseman is perfect for fans of John Green, Rainbow Rowell and all unflinchingly honest writers.
Information
Format: Paperback
Pages: 400 pages
Publisher: HarperCollins Publishers
Publication Date: 31/07/2014
Category: General
ISBN: 9780007559220
Free Home Delivery
on all orders
Pick up orders
from local bookshops
Reviews
Showing 1 - 2 of 2 reviews.
Review by kmartin802
16/06/2015
This was a very hard book for me to read. I didn't like the main character at all. Tori Spring tells the story and it would be hard to find a more pessimistic, self-absorbed character in fiction. She doesn't care about anything and all the people around her are just wallpaper for her boring, depressing life.We learn that her younger brother Charlie has gone through some mental health issues. He went from being obsessive to being anorexic to hurting himself. He is out of the hospital now but the family still has to force him to eat. I think Tori's parents are so concerned with Charlie's problems that they don't have the energy to notice that Tori is falling into a deep depression. Things get even more difficult for Tori when two boys enter her life. Lucas was her best friend when they were in primary school but she hadn't seen him for years until he transferred to her school. Michael Holden is also a new transfer to her school who wants to be her friend. He is another awkward, socially maladjusted teen. Then there is the new blog Solitaire which intrigues people. Solitaire instigates a series of pranks at Tori's school that all seem connected to her in some way. The pranks escalate from the annoying to the dangerous. But it isn't until someone gets hurt that Tori decides that she is going to find out who is behind Solitaire and stop them. She finally gets out of her own head a little bit. Reading this one was hard but I was encouraged at the changes Tori managed to make through the course of the book.
Review by kelsey.hintzman
16/06/2015
I think my expectations were high for this book, so I disappointed myself a bit. This book was well written, and well plotted out. I just didn't really care for the characters. I feel that if I was ten years younger, I might have better related to this book. I don't know. She was VERY cynical, and while I don't mind cynicism, the amount in here overpowered it. I'm glad I read it, but it was not my favorite book.