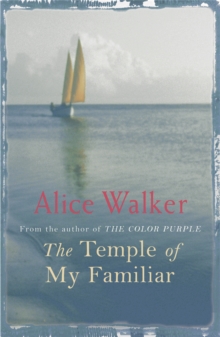 The Temple of My Familiar
Paperback
Description
'A romance of the last 500,000 years' from the Pulitzer prize winning author of THE COLOR PURPLE.A visionary cast of characters weave together their past and present in a brilliantly intricate tapestry of tales.It is the story of the dispossessed and displaced, of peoples whose history is ancient and whose future is yet to come.Here we meet Lissie, a woman of many pasts; Arveyda the great guitarist and his Latin American wife who has had to flee her homeland; Suwelo, the history teacher, and his former wife Fanny who has fallen in love with spirits.
Hovering tantalisingly above their stories are Miss Celie and Shug, the beloved characters from THE COLOUR PURPLE.
Information
Format: Paperback
Pages: 432 pages
Publisher: Orion Publishing Co
Publication Date: 16/09/2004
ISBN: 9780753819487
Other Formats
EPUB from £5.99
Hardback from £10.65
Free Home Delivery
on all orders
Pick up orders
from local bookshops
Reviews
Showing 1 - 3 of 3 reviews.
Review by karima29
16/06/2015
This book, a work of fiction, explores topics that range from slavery, to reincarnation, sexuality, self expression, relationships, racism, sexism, healing, magic, music, writing, art, feminism...It is filled with a rich variety of characters, all with their unique complexity, and weaves them to show how interconnected we all are, to everything around us, other human beings, animals, the earth, to life itself. One of the reasons why Alice Walker is my favourite author is because her writing is very evoking. There's something about the way that she communicates an experience that's not just describing it to you, but it's bringing that experience to life fully. There's no fear in the writing about really delving into a moment of pain and exposing the raw sore for all that it's worth. And in doing so, in evoking the reader in that way, it becomes impossible not to see how one person's pain, is everyone's pain. How the rape of a woman is a rape of humanity in it's entirety. I think that to be a force of change in this world, to be part of a cause or movement taking a stand against injustice, you need to have felt pain, either through an experience of your own or someone else's. That's why her writing is brilliant. It evokes. It moves. All of a sudden, I can say I have insight into what it feels like to be enslaved, or to lose a child, or to be betrayed. And through all of this her writing depicts the multi-faceted beauty of life, of reality as it is.My heart becomes that much bigger with sensitivity and compassion. My stand becomes that much stronger. My level of tolerance and capacity to forgive grow as well.This book is a journey to be savoured.
Review by PinkPandaParade
16/06/2015
Alice Walker is reputedly one of the most well-known, yet most difficult post-modern authors to read, and The Temple of My Familiar makes both of these reputations known. Why is it difficult? In an effort to present life, and I mean life as in the history of man (and other creatures) in this world throughout time, there's no doubt that the result of this feat would be a difficult read. Walker's novel travels in a non-linear way through time, covering South America, North America, Africa, and England, among others. With such an all-encompassing focus on "human" history, Walker can focus neither on one time period or one character. Walker achieves this by use of a different ordering principle than we normally use to recognize time, i.e., past lives. She takes fantastic liberties with the presentation of the past and human origins, telling a matriarchal creation story where the men attempt the emulate the perfect art form of female childbirth and pregnancy. Walker also presents an arboreal past that is possibly an evolutionary history, and the most utopic of all the worlds in the novel.With these stories and multi-faceted characters, Walker communicates that in every other person, there is a piece of ourselves and our histories, that from within one person, our entire past exists. She communicates the Jungian philosophy of the collective unconscious being connected back through time and culture in significant ways. It is with this that one of the characters, Mary Jane, claims that "we all touch each other's lives in ways we can't begin to imagine."Such off-the-wall stories and complicated concepts add to the difficulty of the read while at the same time encouraging the readers to swallow a world that is so unlike their "normal" ones. This world of magic realism, an art form perfected by Walker and fellow writer, Toni Morrison, is one that makes for a refreshing and engrossing read. The characters are unforgettable, the historical and visual backdrops breathtaking. Names like Carlotta, Fanny, Hal, Lulu, Suwelo, and Lissie will forever remain portraits of amazing people that live in my mind beyond Walker's intricate telling.Suwelo himself speaks of the "rare people...[who are] connected directly with life and not with its reflection." It is this ultimate person that I believe Walker wants to present, create and/or reach with the readers of this story. With this, Walker's confusing journey becomes almost a dramatization of how she feels the universe itself works.
Review by amaraduende
16/06/2015
This is a strange, amazing, mythical-proportioned multi-threaded tale. You may need a map to navigate it, and the ending is rather anti-climactic (ahem) but some of the pieces of it are just amazing. Also, it's like a sequel to "Color Purple," in a way.