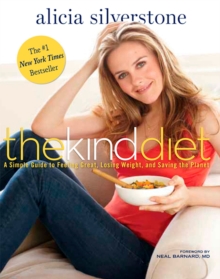 The Kind Diet : A Simple Guide to Feeling Great, Losing Weight, and Saving the Planet
Paperback
Description
After spending more than 20 weeks on the "New York Times" bestseller list, Alicia Silverstone's inspiring guide to eating a plant-based diet has introduced hundreds of thousands of readers to a brand new relationship with food and health.
Now available as a paperback and printed on 100 per cent recycled paper with earth friendly soy ink, "The Kind Diet" continues to inspire readers to diminish the role of 'nasty' foods like meat and dairy in their diets in favour of superhero foods that support good health and take a much gentler toll on our natural resources and environment.
Sharing the insights that encouraged her to become a vegan and outlining the incredible physical benefits of adopting a plant-based diet, Alicia presents a user-friendly 3-level programme to accommodate everyone - those who just want to 'flirt' with the wide range of readily available meat and dairy substitutes and up their consumption of grains and vegetables, those who are ready to adopt a vegan lifestyle, and those who wish to experience full 'superhero' status with a modified macrobiotic regimen that provides maximum weight loss and health benefits. Striking full-colour photographs and over 100 of Alicia's favourite recipes for vegans and superheroes round out this stunning introduction to the animal-free diet, Equal parts memoir, health guide, and keepsake cookbook, "The Kind Diet" is sure to make every reader's transition to a plant-based diet attainable, empowering, and delicious.
Information
Format: Paperback
Pages: 320 pages, 40 colour photos
Publisher: Rodale Incorporated
Publication Date: 15/03/2011
Category: Diets & dieting
ISBN: 9781609611354
Free Home Delivery
on all orders
Pick up orders
from local bookshops
Reviews
Showing 1 - 2 of 2 reviews.
Review by LizPhoto
16/06/2015
Being Vegetarian for more than half my life and vegan for many of them, I found this book just wonderful. "The Kind Diet" has a lot of useful information for those just starting out on a veggie/vegan lifestyle or continuing on one. Some of the information got a little preachy at times but it's fairly easy to ignore it. The recipes were delicious,simple and gave me some new ideas to add into my meal rotation.My biggest complaint is that the book had too much emphasis on diet (losing weight, looking better....) instead of the real reason for a kind diet like the caring and compassion for animals and the planet, it was almost reaching "Skinny Bitch" territory which to me is a book that claims to go vegan just to be a skinny bitch.
Review by bookmagic
16/06/2015
Over the summer I started thinking about becoming a vegetarian again. I didn't really eat much red meat but I did eat a lot of chicken. And the prices were really starting to rise. About this same time, I saw a rerun of Clueless on cable. I remembered reading that Alicia Silverstone had written a book, read a few reviews on Amazon and ordered it.The first half of the book talks about all the different reasons to stop eating meat and dairy (so many things I didn't know, especially the environmental effects of the cattle industry) and easy steps to transition to various levels depending on your goals.Silverstone is not preachy at all and backs up everything she writes with scientific research. But it reads like you are having a conversation with a friend. There are 3 levels; flirting, vegan, superhero. Flirting involves some small changes to reducing meat and dairy from your diet. Vegan is about replacing meat and dairy with vegan versions. They both talk about how to eat healthier and the benefits of not eating animal products. Superhero is not just eating vegan but eating whole foods, no processed foods, even if they are vegan. It also talks about eating food that is seasonal and local. Silverstone is aware that people may move in and out of the different levels and that she herself sometimes does so.Instead of being a vegetarian, I decided I would try eating vegan. I didn't really think I would be able to stop eating cheese for good, it was a staple of my diet. But after having cheese again after being off dairy for several days, it made me feel ill. Within a month, I was done with animal products. I was easily able to skip to eating whole foods as replacement foods are expensive and it was summer and veggies were plentiful. Now I buy local, organic, and seasonal foods. I rarely eat processed foods though it is hard to avoid stress-eating sugary foods on a late afternoon workday.I have lost weight, though this wasn't my reason for the changes. I have more energy, I feel better, and I am spending so much less money on food. Cutting out dairy also significantly reduced my seasonal allergies and I haven't had a cold since. It has to do with the mucus your body makes when eating dairy. Gross. It isn't mentioned in the book which is too bad. Allergies are horrid.The second half of The Kind Diet is recipes. I haven't used them except for inspiration. I'm not a big follower of recipes, they usually have too many ingredients and I like to keep things simple.This book was worth it just for the first half alone. I read it at the right time and it changed my life and this book made it so easy to do so.
Also by Alicia Silverstone