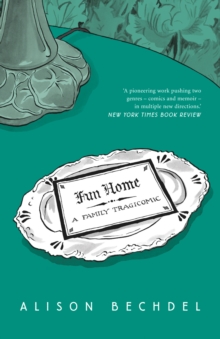 Fun Home : A Family Tragicomic
Paperback
Description
One of the most eagerly anticipated graphic memoirs of recent years, Fun Home is a darkly funny family tale, pitch-perfectly illustrated with Alison Bechdel's sweetly gothic drawings.
Like Marjane Satrapi's Persepolis, it's a story exhilaratingly suited to graphic memoir form. Meet Alison's father, a historic preservation expert and obsessive restorer of the family's Victorian home, a third-generation funeral home director, a high-school English teacher, an icily distant parent, and a closeted homosexual who, as it turns out, is involved with his male students and the family babysitter.
Through narrative that is alternately heartbreaking and fiercely funny, we are drawn into a daughter's complex yearning for her father.
When Alison comes out as homosexual herself in late adolescence, the denouement is swift, graphic, and redemptive.
Information
Format: Paperback
Pages: 240 pages, Throughout
Publisher: Random House Children's Publishers UK
Publication Date: 14/09/2006
Category: Memoirs
ISBN: 9780224080514
Free Home Delivery
on all orders
Pick up orders
from local bookshops
Reviews
Showing 1 - 5 of 9 reviews.
Previous | Next
Review by annafdd
16/06/2015
Immensely touching clever and funny. Read in one go and kept thinking about it for weeks.
Review by JimmyChanga
16/06/2015
The 7 chapters in this graphic memoir feel less like she's telling you a story from beginning to end... and more like she's telling you the same story 7 times. But each time, she reveals a little bit more, either contextual, historical, or personal analysis. It's more of a graphic-personal-essay than a graphic-memoir, in that she is trying to work something out, trying to make some meaning out of her past by looking at it from several different angles. The point is not to tell a good story, the point is to wring some ounce of meaning out of it, and if she didn't do it so well, I would fault her for this. But she does it well, and it suits her OCD personality to hash and re-hash things, to build some kind of sense and meaning (even numbers except for multiples of 13!) out of what is seemingly meaningless.One way she does this is to cast her family in the roles of literary characters, writers, and actors. Through the course of this book she draws parallels between herself/her family and the following: F Scott Fitzgerald, Oscar Wilde, Ulysses/The Odyssey, Icarus/Daedelus, Richard Nixon, The Adams Family, Jimmy Stewart &amp; Family in It's A Wonderful Life, Camus, Catcher in the Rye, Colette, Proust, Robert Redford, some Henry James novel etc. etc. By the end you feel like she's probably way too smart for her own good. All this analogizing her life <i>can't</i> be good for her, this obsessive analysis borders on neurosis, and she knows it too: one of her many theories is that it is easier to live through fiction, or to access life through illusion/allusion than directly.Anyway, the weaving of these threads together is done with such skill that it makes for a good read. And perhaps she did come away with it, after all of that, with some kind of insight. It definitely feels like insight by the end, but I'm not sure if it is, or if all it boils down to is just her trying to convince herself of what she wants to believe.I was struck by the fact that I didn't like the father at all. And I felt like there weren't that many characters to really cling to in this book, except for the father and the narrator. But other than the father, the other characters fall back into bit parts, almost invisibly. And I wasn't sure if I was supposed to feel sympathy for the father, which is what seemed to be happening towards the end. I felt sympathy maybe for his situation, but I really didn't like him as a person (well, that sounds kinda weird... how about "as a person as portrayed in this book").One last note: I wasn't really impressed by the art when I began, but it grew on me (mainly because of the story). She's definitely a much better thinker/writer than an artist. And the way she weaves the words with the pictures works really well sometimes without seeming too clever or innovative (which usually gets on my nerves).
Review by msf59
16/06/2015
This is an illustrated memoir, exploring the author's childhood, young adulthood and her unusual relationship with her father. He is a complex, fastidious individual. An English teacher, a home-restorer, funeral home worker and closeted homosexual, with a penchant for teenage boys. This book is described, on the cover, as "A Family Tragicomic", which may be misleading. I didn't find much humor here but what can be found is an unflinchingly honest look at a woman dealing her troubled past. This one may not be for everyone but I'm glad I took a peek into this dark, yet fascinating life.
Review by clfisha
16/06/2015
Hugely thoughtful and carefully crafted graphic novel memoirTwo weeks after her mother requested a divorce, her father stepped into the path a truck and was instantly killed. An ambiguous end but one Bechdel believes was suicide, this is a de-constructed look at their strained relationship, her coming of age, both of their journeys with homosexuality and the tired old gender roles and well many many other things. It joyfully entwines her many literary influences as well as proving fascinating insight into USA LGBT history and pulls of a structure that only a comic could achieve.Awkward familial relationships may be the bread and butter of memoirs but I seriously would not over look this one. The non-linear narrative with a whiff of unreliable narrator is compelling and deliciously complex as each chapter revisits & refocus their relationship, showing many new facts along the way. You can see the story tellers puppet strings is a superb(doesn't make sense). Its wryly amusing, tragic, matter of fact and overall hugely interesting. The art is deceivingly simplistic black & white that compliments and plays of the text.For those unaware Alison Bechdel is probably most famous for the Bechdel test (a litmus test of sexual equality in films) but also her long running, popular LGBT comic strip. This is her 1st self contained graphic novel and instantly hit best-seller lists.A real gem for comics, memoir fans and anyone interested in LGBT fiction or history. There is err.. a sequel Are You My Mother? this time about her relationship with her mother and I cannot wait to get hold of it.
Review by SandDune
16/06/2015
A moving and thoughtful memoir of Alison Bechdel's childhood, and in particular her relationship with her father, a troubled man and a closet homosexual who seems almost to be living someone else's life. But rather than being the 'fun home' of the title, Bechdel's childhood home is a house governed by the moods of her father, whose arrival home from work 'cast a cold pall on the peaceable kingdom' where she spent her early days with the mother and brother. In his day job Alison Bechdel's father is a part-time funeral director running the family business, the Bechdel Funeral Home (the 'fun' home of the title), while also teaching English to reluctant students at the local high school. But in his spare time he has a passion and a talent for historical restoration: a passion that gives the Bechdel family a house with gilt cornices, marble fireplaces and crystal chandeliers but where Alison and her siblings seem there just to lend an air of authenticity to his exhibit, 'a sort of still life with children'.Bechdel's father views his inner feelings through the prism of his favourite writers (James Joyce and F. Scott Fitzgerald) and clearly has his own inner demons. Bechdel's coming out to her family is upstaged by her mother's announcement that her father had had several sexual relationships with young men and boys in their home town, which makes events in her earlier life rather clearer to understand. But this is not a vindictive memoir, rather an attempt to understand her father and in particular why he remained in his small home town leading a life to which he seemed so patently unsuited. So much so that when he was killed in a traffic accident at the age of 44 the assumption of his family was that it was suicide, although no note had been left.Definitely a rewarding read especially for anyone interested in family relationships