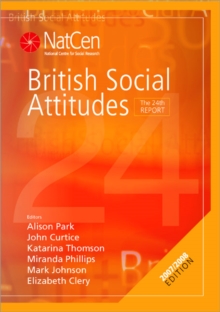 British Social Attitudes : The 24th Report
Hardback
Description
'...British Social Attitudes remains a beacon of excellence.
It has adapted to the times...providing a rich and textured guide to who we think we are, what we think and how that has changed' - Financial Times '...an indispensable tool not just for governments, but also for modern citizens to understand their fellows, and themselves better' - The Times Higher Education Supplement'...shows what the British people really think, as opposed to what journalists and politicians like to pretend they think' - John Pilger The annual British Social Attitudes survey is carried out by Britain's largest independent social research organisation, the National Centre for Social Research.
It provides an indispensable guide to political and social issues in contemporary Britain. This 24th Report summarises and interprets data from the most recent nationwide survey, as well as drawing invaluable comparisons with the findings of previous years to provide a richer picture and deeper understanding of changing British social values.
The British Social Attitudes survey report is essential reading for anyone seeking a guide to the topical issues and debates of today or engaged in contemporary social and political research.
CONTENTS:1. New families? Tradition and change in modern relationships - Simon Duncan and Miranda Phillips2.
Cohabitation and the law: myths, money and the media - Anne Barlow, Carole Burgoyne, Elizabeth Clery and Janet Smithson3.
Who does the housework? The division of labour within the home - Rosemary Crompton and Clare Lyonette4.
Talking the talk: national identity in England and Scotland - Frank Bechhofer and David McCrone 5. Is there still a public service ethos? - Peter John and Mark Johnson6. Prejudice and the workplace - Chris Creegan and Chloe Robinson7. Car use and climate change: do we practise what we preach? - Stephen Stradling, Jillian Anable, Tracy Anderson and Alexandra Cronberg8. Where have all the readers gone? Popular newspapers and Britain's political health - John Curtice and Ann Mair9. What makes a good citizen? Citizenship across the democratic world - Paul F Whiteley10. The role of government: public values and party politics - Robert Johns and Stephen Padgett11.
Trends in sympathy for the poor - Peter Taylor-Gooby and Rose MartinFor more information on the National Centre for Social Research visit www.natcen.co.uk
Information
Format: Hardback
Pages: 408 pages
Publisher: SAGE Publications Inc
Publication Date: 23/01/2008
Category: Sociology & anthropology
ISBN: 9781412947749
Also in the British Social Attitudes Survey Series series | View all