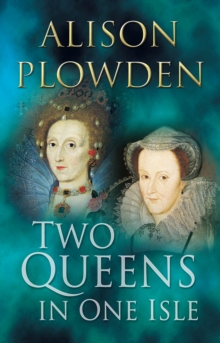 Two Queens in One Isle : The Deadly Relationship of Elizabeth I and Mary Queen of Scots
Paperback / softback
Description
The relationship between Queen Elizabeth I of England and her cousin, Mary Queen of Scots, is one of the most complex, tempestuous and fascinating in history.
United in blood but divided by religion, the two women were in some ways uniquely close; in others, poles apart.
Championed by English Catholics as the rightful Queen of England, Mary was nevertheless given protection by her cousin after she was deposed amid outrage at her immoral behaviour.
Rumours of papist plots involving Mary were rife and Elizabeth was put under extreme pressure to be rid of this dangerous threat to her sovereignty and to the Protestant church in England.
After much reluctance and procrastination Elizabeth finally signed Mary's death warrant.
Alison Plowden shows how political fear brought out the worst and yet the best in these women, and how history was overshadowed for centuries afterwards.
Information
Format: Paperback / softback
Pages: 256 pages
Publisher: The History Press Ltd
Publication Date: 19/06/2003
Category: Biography: royalty
ISBN: 9780750932394