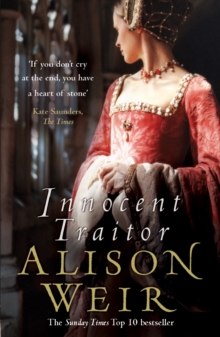 Innocent Traitor
Paperback
Description
Alison Weir, our pre-eminent popular historian, has now fulfilled a life's ambition to write historical fiction.
She has chosen as her subject the bravest, most sympathetic and wronged heroine of Tudor England, Lady Jane Grey.
Lady Jane Grey was born into times of extreme danger.
Child of a scheming father and a ruthless mother, for whom she was merely a pawn in a dynastic power game with the highest stakes, she lived a life in thrall to political machinations and lethal religious fervour.
Jane's astonishing and essentially tragic story was played out during one of the most momentous periods of English history.
As a great-niece of Henry VIII, and the cousin of Edward VI, Mary I and Elizabeth I, she grew up to realize that she could never throw off the chains of her destiny.
Her honesty, intelligence and strength of character carry the reader through all the vicious twists of Tudor power politics, to her nine-day reign and its unbearably poignant conclusion.
Information
Format: Paperback
Pages: 432 pages
Publisher: Cornerstone
Publication Date: 01/06/2007
Category: Historical fiction
ISBN: 9780099493792
Free Home Delivery
on all orders
Pick up orders
from local bookshops
Reviews
Showing 1 - 5 of 9 reviews.
Previous | Next
Review by StanSmith108
16/06/2015
I don't know how it is possible to make the story of Lady Jane Grey boring - but Alison Weir has achieved it! I think this is the most tedious book I have ever read. I believe this is her first novel, after writing a number of historical non-fiction books - she should stick to non-fiction. I have read many of her non-fiction works and enjoyed most of them (The Princes in the Tower being the major exception as she is so obviously biased).
Review by bibliobeck
16/06/2015
I almost stopped reading this book in the beginning when a supposed four-year-old Lady Jane Grey was narrating her little heart out as though she was a fully grown woman. I found this so unrealistic and annoying that it was in danger of distracting me from the story. I'm glad I didn't let it. The tale of Lady Jane is fascinating; both tragic and strangely uplifting at the same time. I am aware that this country has a bloody history, but sometimes I forget just how bloody and ruthless it has been and for me the Tudors epitomise this more than any other time in history. Alison Weir tells the tale with a very sympathetic eye to Lady Jane Grey who was used and abused by those who she should have been able to trust the most, and her story is a must read for anyone interested in this period. For me though, the author falls a little short of making the main player's voices convincing. It's quite ambitious to write a story from different people's points of view as their voices have to sound genuine and unique to convince the reader, but I'm afraid that without a heading of who was narrating each section I'd have been hard pushed to tell. This is a real shame as Weir is obviously an expert, not only in the characters themselves but in the royal protocol and social history of the time and it's this that make this book so fascinating. Overall, for me the pros outweigh the cons, although I suspect that she writes with more authority as a pure historian. I would recommend this book as one to read - the story is absolutely fascinating and I found myself feeling uplifted (and even slightly envious) of Lady Jane Grey's absoulte faith and belief in her God.
Review by meggyweg
16/06/2015
Meh. Alison Weir is not cut out for this sort of thing. All the dozen or so narrators sound the same, it was very slow-moving, and Jane's voice is way too grown-up -- even if you took into account her intelligence, she sounds like she's thirty when she's supposed to be four.Innocent Traitor was thoroughly researched of course, but to the point where Weir seems to have forgotten it was, after all, a novel. You'd be better off with one of her histories instead of this "novel" which was really a history in disguise.
Review by lecari
16/06/2015
This historical novel discusses the life of Lady Jane Grey, a young girl who was Queen for only nine days after the death of Edward VI, before Queen Mary took the throne back. She was a distant relative of Henry VIII through her mother, and was also a devout Protestant. As Mary was a Catholic, the rebellion centred around keeping the country to the Protestant religion. Unfortunately it failed, and Lady Jane Gray was beheaded at just sixteen years old.Alison Weir is a historian, and has written books around the Tudor period, so although obviously the story is mainly fictional, it is based on historical facts. It's surprisingly well-written, too, in first person, although it can be confusing as it changes POV regularly between the characters. I thought it was quite heartbreaking at the end, I have always been sympathetic towards her, but particularly so now.The quote on the front cover states that "if you don't cry at the end, you have a heart of stone," and I'd say this is pretty true. It's a tragic story, but very compelling and certainly worth reading if you enjoy historical fiction.
Review by docliz
16/06/2015
This, my first introduction to historical fiction, has me hooked. What a wonderful to learn about history with all the sights and sounds bringing the at alive. This is the tragic story of lady Jane Grey caught up in the ferocious world of Tudor politics. Who would want a mother like hers!