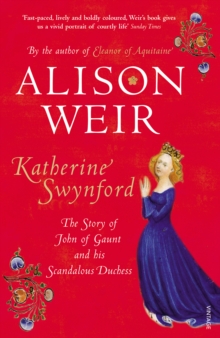 Katherine Swynford : The Story of John of Gaunt and His Scandalous Duchess
Paperback
Description
Katherine Swynford was first the mistress, and later the wife, of John of Gaunt, the Duke of Lancaster.
Her charismatic lover was one of the most powerful princes of the fourteenth century and Katherine was renowned for her beauty and regarded as enigmatic, intriguing and even dangerous by some of her contemporaries.
In her impressive new book, Alison Weir has triumphantly rescued Katherine from the footnotes of history, highlighting her key dynastic position within the English monarchy.
She was the mother of the Beaufort, then the ancestress of the Yorkist kings, the Tudors, the Stuarts and every other sovereign since - a prodigious legacy that has shaped the history of Britain.
Information
Format: Paperback
Pages: 496 pages
Publisher: Vintage Publishing
Publication Date: 07/08/2008
ISBN: 9780712641975
Free Home Delivery
on all orders
Pick up orders
from local bookshops
Reviews
Showing 1 - 3 of 3 reviews.
Review by john257hopper
16/06/2015
Absorbing and well researched as ever, but, due to the paucity of available information on its subject, this reads in many places more like a biography of John of Gaunt, as suggested by the book's subtitle. It does give a good feel for 14th century and life and mores, though. Annoyingly, the details/dates in the family trees at the back sometimes contradict the main text.
Review by Kasthu
16/06/2015
Like Alison Weir, I was first introduced to the story of Katherine Swynford through Anya Seton's 1954 novel, Katherine. Weir's biography is a pretty comprehensive look at this enigmatic, lesser-known medieval woman.I have a love-hate relationship with Weir's books: I loved The Six Wives of Henry VIII; liked Mary, Queen of Scots and the Murder of Lord Darnley, and Eleanor of Aquitaine; but detested Queen Isabella and Innocent Traitor (Weir doesn't do fiction all that well). I put Katherine Swynford in the "like somewhat" category.Katherine Swynford was born Katherine de Roet in 1350, one of the daughters of Sir Paon de Roet. She then married Hugh Swynford, and spent time in the Lancastrian household as the governess to John of Gaunt's children. Katherine's affair with him probably began around the year 1372, and, after producing a number of illegitimate children, married John in 1396. Katherine is the ancestor of most of the royal houses of Europe, plus at least five American presidents. History has seen Katherine as bit of a homewrecker, but in this book, Weir attempts (and mostly succeeds) in portraying her in a more sympathetic light. This biography of Katherine Swynford is, as with all of Weir's books, meticulously researched. It's less overtly feminist and partisan than some of her other biographies. Pay attention to the subtitle of this biography: the book is more about John of Gaunt than it is about Katherine (in fact, we don't even get a physical description of Katherine until after one is given of John). We also get very detailed biographies of everyone who was related or connected to her, especially Geoffrey Chaucer, her brother-in-law. After finishing this book, I still didn't have a concrete impression of what Katherine was really like. And, because so little is actually known about Katherine's life, Weir makes an awful lot of assumptions here about what her subject "might," "perhaps," or "probably" have done/ thought/ felt. However, Weir does a wonderful job bringing the details of the period to life. It's an accessible, readable work of history that doesn't get bogged down in pretentious language. For someone who doesn't know medieval Latin or Norman French, Weir does an incredible job of interpreting her sources. And the style of this book is far more lively and engaging than other books written on the Lancasters that I've read. I look forward to reading what comes next from Weir (according to her website, the next book is about Anne Boleyn, though she may be re-treading familiar water with that one).
Review by jcbrunner
16/06/2015
If you like Alison Weir's style you will enjoy this one too. Like many of her other medieval lives of famous medieval women, she fills the lack of source material with information about their men, inserting a good portion of romance. In the case of John of Gaunt and Katherine Swynford, she offers the important nugget of information that John suffered heavily from venereal disease and as a forty-year-old looked like a sixty-year-old man only shortly before telling about his death. Offering the information earlier, however, would destroy the romance her readers expect.Like Camilla, Charles and Diana, John of Gaunt, Constance of Castile and Katherine Swynford lived in an arrangement where three is one too much. At least the children in this patchwork family didn't seem to mind. John contributed kids from his first two wives, Katherine from her first marriage with the unfortunately named knight Swynford. The university of Oxford is lucky that is named after a somewhat nobler animal. One interesting fact is that the poet Geoffrey Chaucer was unhappily married to Katherine's sister.John of Gaunt's military ineptitude meant that his fortunes in France and Castile didn't bear fruit. Thanks to his first marriage, he still was the richest man in England. Even today, the Duchy of Lancaster contributes millions to Prince Charles, tax-free.