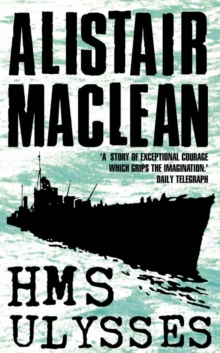 Description
The novel that launched the astonishing career of one of the 20th century's greatest writers of action and suspense - an acclaimed classic of heroism and the sea in World War II.
Now reissued in a new cover style. The story of men who rose to heroism, and then to something greater, HMS Ulysses takes its place alongside The Caine Mutiny and The Cruel Sea as one of the classic novels of the navy at war. It is the compelling story of Convoy FR77 to Murmansk - a voyage that pushes men to the limits of human endurance, crippled by enemy attack and the bitter cold of the Arctic.
Information
Format: Paperback
Pages: 480 pages
Publisher: HarperCollins Publishers
Publication Date: 28/02/1994
Category: Second World War fiction
ISBN: 9780006135128
Free Home Delivery
on all orders
Pick up orders
from local bookshops
Reviews
Showing 1 - 2 of 2 reviews.
Review by othersam
16/06/2015
Although not quite as well known now as he was in his heyday, Alistair Maclean was once the undisputed king of thriller-writers. Even now, titles like The Guns of Navarone and Where Eagles Dare are still famous as films, creaky and (endearingly!) old-fashioned though those look today. However, HarperCollins in the UK has recently been reissuing the books, and here's a surprise: the books stand up /just fine/.HMS Ulysses was Maclean's debut: to my mind, it's one of his absolute best. Although the book takes a couple of chapters to get going, once the Ulysses sets out on her fateful mission to the Arctic Seas, to protect vital supply-carrying convoy-ships from the predatory attacks of German U-boats, it's almost impossible not to find oneself taken along for the ride. A passionate, desperate story about the horrors of sea warfare and the incredible bravery and endurance of those who took part, this is a truly thrilling and engrossing read. Highly recommended.
Review by Veeralpadhiar
16/06/2015
Without doubt one of the best - if not the best - books written about the perils faced by the seafaring men of the Arctic convoys sailing from Britain to USSR in World War-II.<br/><br/>MacLean himself served on a warship in World War-II, so he knows what he is talking about.<br/><br/>One of my favorite books of all time. <br/><br/>Highly recommended.