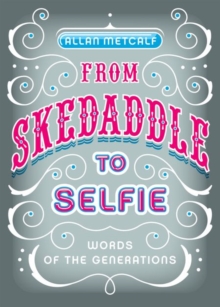 From Skedaddle to Selfie : Words of the Generations
Hardback
Description
From baby boomers with 'groovy' and 'yuppie' to Generation X with 'whatever' and 'like,' each generation inevitably generates original words that come out of its social and historical context.
Those words not only tell us a great deal about the people in those generations, but also highlight the differences between them and other generations.
In this book, Allan Metcalf, author of OK, uses a special framework of defining American generations to show that each generation of those born within a particular 20-year time period can be identified and characterized by words it chooses to use.
By sampling from as far back as the American Revolution, Metcalf carefully constructs a comprehensive account of the history and usage of words associated with each generation in the American language.
With special attention to thedifferences in vocabulary among the generations currently living-the sometimes awkward Millennials, the grunge music of Generation X, hippies among the Boomers, and bobbysoxers among the Silents - From Skeddadle to Selfie compiles dozens of words we have come to recognize or use and tells the unheard stories of each inits role of accompanying its generation through the times.
Information
Format: Hardback
Pages: 232 pages
Publisher: Oxford University Press Inc
Publication Date: 07/12/2015
Category: Language: reference & general
ISBN: 9780199927128