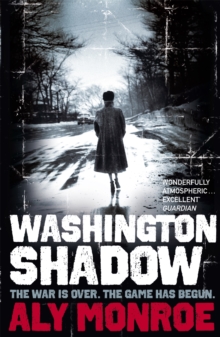 Washington Shadow
Paperback
Description
WASHINGTON SHADOW is the second in the critically acclaimed Peter Cotton series following the fortunes of British spy Peter Cotton.
For all fans of John le Carre, Robert Harris, Eric Ambler and Graham Greene. The war is over. The game has begun. September 1945. Bankrupt and desperate, Britain sends John Maynard Keynes to boom town Washington to beg for a loan.
Under cover of the backup team, agent Peter Cotton is sent to investigate the break-up of America's wartime intelligence agency. Cotton finds himself caught up in a world of shadows involving an extraordinarily attractive girl from the US State Department, a Soviet ex-tank commander claiming to be his opposite number, a contrarian African academic, an ambitious, quick-tempered boss from the world of misinformation ...and an Anglo-American conspiracy that will change the world of post-war intelligence for ever.
Information
Format: Paperback
Pages: 336 pages
Publisher: Hodder & Stoughton General Division
Publication Date: 05/08/2010
ISBN: 9780719520938
Free Home Delivery
on all orders
Pick up orders
from local bookshops
Reviews
Showing 1 - 1 of 1 reviews.
Review by maneekuhi
16/06/2015
I'm not sure what the plot of this book was, if there in fact was one. In "Washington Shadow', The Brits and Americans are meeting post WWll to negotiate some financial assistance to the UK. Lord Keynes and Freddie Vinson lead the two teams, each are staffed by econ experts, spies, analysts, etc. etc. Our hero is Peter Cotton; I believe this is Book Two in the series. Odd little problems surface for the Brits, and apparently most are caused by the FBI, though the why is unclear. There just didn't seeem to be any direction for the story. Then there's the romance between hero and A State Dept. staffer. Somehow they get engaged without those three little words being said by either party -, vehhy stiff uppa lip, dahling. Then the engagement is.....well, I guess you could say it was broken. And this is the 2nd time such a break has occurred for PC.. Almost worth reading it just to see what I'm talking about. The one thing I did like was that there was a lot of vividly described atmosphere and environment; the author did a great job researching the period and locale. But that's not enough to make me want to read another Aly Monroe no matter how well reviewed.