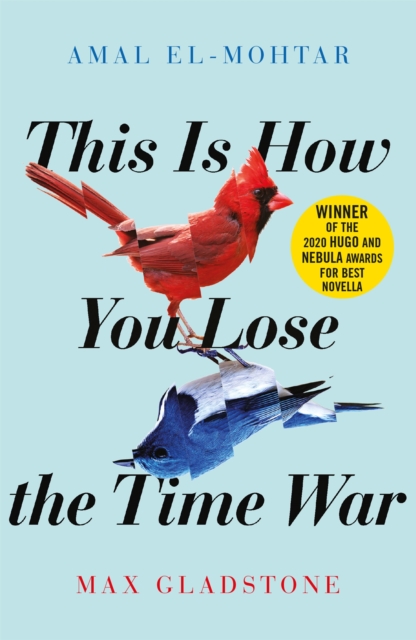 This is How You Lose the Time War : The epic time-travelling love story and Twitter sensation
Paperback / softback
Description
WINNER OFHugo Award for Best NovellaNebula Award for Best NovellaReddit Stabby Award for Best NovellaBritish Science Fiction Association Award for Best NovellaSHORTLISTED FOR2020 Theodore Sturgeon Memorial AwardThe Ray Bradbury PrizeKitschies Red Tentacle AwardKitschies Inky TentacleBrave New Words AwardCo-written by two award-winning writers, This Is How You Lose the Time War is an epic love story spanning time and space. Among the ashes of a dying world, an agent of the Commandant finds a letter.
It reads: Burn before reading. Thus begins an unlikely correspondence between two rival agents hellbent on securing the best possible future for their warring factions.
Now, what began as a taunt, a battlefield boast, grows into something more.
Something epic. Something romantic. Something that could change the past and the future. Except the discovery of their bond would mean death for each of them.
There's still a war going on, after all. And someone has to win that war. That's how war works. Right?'A fireworks display from two very talented storytellers' Madeline Miller, author of Circe'An intimate and lyrical tour of time, myth and history' John Scalzi, bestselling author of Old Man's War'Lyrical and vivid and bittersweet' Ann Leckie, Hugo Award-winning author of Ancillary Justice'Rich and strange, a romantic tour through all of time and the multiverse' Martha Wells, Hugo and Nebula Award-winning author of The Murderbot Diaries
Information
Format:Paperback / softback
Pages:208 pages
Publisher:Quercus Publishing
Publication Date:18/07/2019
Category:
ISBN:9781529405231
Information
Format:Paperback / softback
Pages:208 pages
Publisher:Quercus Publishing
Publication Date:18/07/2019
Category:
ISBN:9781529405231