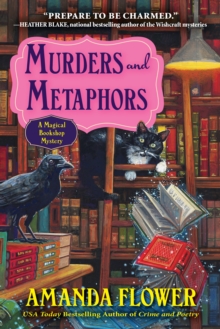 Murders And Metaphors : A Magical Bookshop Mystery
Hardback
Description
USA Today bestselling author Amanda Flower is back with the third in her more-charming-than-ever Magical Bookshop mystery.
Fans of Sofie Kelly and Heather Blake, prepare your bookshelves!
Niagara region booksellers Violet Waverly and Grandma Daisy sleuth the slaying of a sommelier whose book signing turned into her sayonara.
January means ice wine season in the Niagara Falls region, but the festivities leave Charming Books owner Violet Waverly cold, still reeling from a past heartbreak.
A past heartbreak who will be present at the annual midnight grape-harvest festival, and no magic in the world or incantation powerful enough could get Violet to attend.
But Grandma Daisy, an omniscient force all on her own, informs Violet that she's already arranged for the mystical Charming Books to host celebrity sommelier Belinda Perkins's book signing at the party.
Little do either Waverly women know, the ice wine festival will turn colder still when Violet finds Belinda in the middl
Information
Format: Hardback
Pages: 320 pages
Publisher: Crooked Lane Books
Publication Date: 12/02/2019
Category: Crime & mystery
ISBN: 9781683318996
Other Formats
Paperback / softback from £6.25